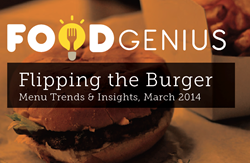 With burgers occurring on more than three-fourths of menus in some segments, differentiation is a key factor for operators that want to get more out of their burger offering. - Justin Massa, CEO
Chicago, IL (PRWEB) March 12, 2014
Burger buzz is alive and well as burgers continue to dominate restaurant menus across the nation. Food Genius™ has released their latest Industry Report: Flipping the Burger: Menu Trends and Insights, detailing impressive stats surrounding burgers. According to Flipping the Burger, all burgers are not created equal. While nearly half of restaurants that menu burgers are fast casual, quick casual or family dining restaurants, Food Genius data proves that independent restaurants are far less likely than chain restaurants to charge a premium for burgers with cheese.
"Independent operators have an opportunity to get into the premium burger game with some slight tweaks," states Justin Massa, Food Genius Founder and CEO. "Many chain competitors are increasing their offerings, improving the quality, and charging more for premium accouterments. With burgers occurring on more than three-fourths of menus in some segments, differentiation is a key factor for operators that want to get more out of their burger offering."
With the growth of the "better burger" movement, Food Genius has some insight on the best ways that foodservice manufacturers and distributors can improve their offerings to provide premium solutions across all segments, without cutting margin.
Key insights from Food Genius' Flipping the Burger:

Surprisingly, peppers are mentioned on burgers more often than pickles.
More than 50 percent of burger menus mention bacon as a topping option, proving that bacon and burgers go together like peas and carrots.
Chain restaurants are 1.5x more likely to include the term "beef" than independent restaurants and twice as likely to include the term "ground beef" as a burger menu descriptor.
Flipping the Burger: Menu Trends and Insights highlights data sourced from Q4'13 Food Genius Reports, an insights platform and data dashboard currently tracking 87,159 unique menus across the United States. The Industry Research Library is an online repository for at-a-glance research reports that stem from the company's award-winning Food Genius Reports platform.
For more information about Flipping the Burger: Menu Trends and Insights, or to receive your complimentary copy, please contact Eli Rosenberg, eli(at)getfoodgenius(dot)com or at (312) 229-0168. Ongoing insights from the Food Genius team will be published on the Food Genius blog http://blog.getfoodgenius.com.
About Food Genius
Chicago-based Food Genius is a technology and services company with a mission to deliver big data and insight solutions to the food industry. Currently tracking 50,676,146 menu items from 87,159 unique menus at 350,763 restaurant locations. Food Genius leverages modern web technologies and custom tools to generate high quality, granular data and insights for an array of commercial uses. Food Genius is able to provide the most robust industry trend analysis ever provided, putting insights generated from big data at client's fingertips. Food Genius is on a mission to provide manufacturers, distributors, operators, and CPG brands with actionable data to track trends, develop concepts and drive growth.