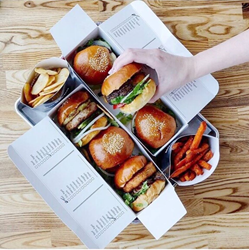 Los Angeles, CA (PRWEB) March 03, 2017
America is home to a melting pot of culinary delights. From quick meals at fast food restaurants to five-star dining, you can find a fusion of flavors in practically every city. This is a country that truly loves food. There are entire television channels devoted to food, festivals celebrating favorite foods, and holiday traditions that revolve around foods. One of the newest food crazes to hit the United States is Burgerim. This Israeli-based franchise got its start in 2011, but quickly drew attention from curious foodies around the world as word spread about the gourmet mini-burgers and unique customized menu concept. Within just two years, Burgerim branched out with more than 80 franchises.
Burgerim is opening up it's newest burger restaurant in Memphis, Tennessee on Saturday, March 4th with a huge grand opening celebration of complimentary burgers to the local memphis community. According to Burgerim Memphis Facebook page and eventbrite, all tickets have been 'sold out' (given away) for a complimentary Burgerim duo pack of burgers, fries, and a drink of your choice. The celebration starts at 5:00 PM - 10:00 PM.
The Secret to Burgerim's Explosive Franchise Growth:
Thousands of restaurants attempt to franchise, but only a handful succeed on a global scale. For Burgerim, the explosive growth is largely due to the completely unique concept. Burgerim is the first restaurant built around customized mini-burgers where customers can play around with patty flavors, unusual toppings, and a vast array of sauces. Every burger is unique and there's always more than one. Combos feature a duo, trio, or party box where hungry burger fans can feast on 2.8 oz. patties made from dry aged beef, lamb, chicken, turkey, and many more options. Toppings range from traditional to completely unconventional. At Burgerim, the bite sized burgers are topped with pineapple, avocado, mushrooms, or sunny side eggs. You can mix and match flavors on every burger to create a new experience at each visit.
Another major contributor to Burgerim's fast paced growth is the consistently better fast food experience. Forget long lines, rude servers, or boring décor. Burgerim provides food that is fast and affordable in a modern, upscale setting. It's a casual dining opportunity where service is consistently good and the staff is always warm and welcoming. Franchise opportunities are available in over 33 states including California, Arizona, and Colorado. Franchisees undergo rigorous training to make sure staff upholds the Burgerim reputation by offering delicious food in a fun and friendly way.
The Best New Burger Franchise Opportunity:
With global recognition for the food, atmosphere, and service, Burgerim is one of the hottest new burger franchise opportunities in the United States. The company's rapid growth is fully organic as hopeful restaurant owners compete for a chance to buy into the business model that has been an overwhelming success in every single location. Burgerim goes the extra mile for franchisees, providing ongoing support that extends long after the grand opening is complete.
Burgerim franchisees enjoy a long list of benefits. The company provides a complete roadmap to launching a successful restaurant starting with comprehensive business training. No restaurant experience is required to open a Burgerim franchise. The company is eager to train passionate aspiring entrepreneurs to be successful in the food industry. When you invest in a Burgerim franchise, you'll also gain full access to advertising and marketing plans that have been put to the test worldwide. You'll receive customer service training and learn how to recruit the right type of employees. You'll even get access to pre-screened suppliers and assistance with real estate and interior design!
With so many perks riding on this popular burger franchise, you might be surprised to learn that the upfront investment is actually very low. Burgerim even offers financing to all franchisees to make it easier to get started. Franchise representatives work with each potential franchisee candidate to determine if Burgerim will be the right fit for their city. If it's a match, the potential for long-term profitability is unlimited. For more information about franchising a Burgerim burger restaurant in your city, visit Burgerim's franchising page at https://www.burgerim.com/burger-franchise/business/ and complete the contact form.
Burgerim has left an undeniable mark on the American franchise scene. With constant growth across multiple states, the Israeli-burger phenomenon is here to stay.