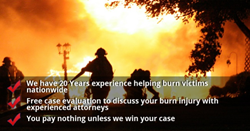 Almost ten percent of survivors require rehabilitation and medical intervention that can be astronomically expensive and scars that are permanently disfiguring
Houston, TX (PRWEB) March 01, 2014
Danziger & De Llano, an experienced law firm based in Houston, Texas, has just announced the launch of its new burn injury claims website, http://www.burninjuryclaims.net/. As an article on the new site notes, each burn injury lawyer at Danziger & De Llano is committed to helping people who have suffered burns due to the negligence of others.
For the past two decades, notes burninjuryclaims.net, the caring and compassionate team of attorneys at Danziger & De Llano have represented both burn victims and their families.
Unfortunately, an article on the new website, http://www.burninjuryclaims.net/burn-injury-lawyer/, underscores the need for people to have access to experienced burn attorneys. According to statistics from the American Burn Association, around 450,000 people are treated in hospitals in the United States every year for serious burns, and 3,400 die as the result of their injuries. As the article on the firm's site points out, since these numbers do not include those who receive medical treatment in clinics, health centers and doctors' offices, they are undoubtedly even higher. As the article notes, many burn victims go on to recover from their injuries, they often must deal with lingering pain and residual health effects.
"Almost ten percent of survivors require rehabilitation and medical intervention that can be astronomically expensive and scars that are permanently disfiguring," the article noted, adding that many people also require extensive physical and emotional therapy.
Because the attorneys at Danziger & De Llano understand that many burn victims and their loved ones often have numerous questions about burn injury cases, the new website also features a Frequently Asked Questions section, http://www.burninjuryclaims.net/frequently-asked-questions/, where they can go at any time to learn more about the firm as well as common questions like how much it will cost to hire an attorney from Danziger & De Llano.
As the answer to this common inquiry explains, Danziger & De Llano is a personal injury law firm that handles burn injury cases on a contingency basis, which means they will not ask clients to pay them money out of their pocket.
"From your first meeting with us to the time that your case is resolved, we will not charge you; you only pay us if we win on your behalf, and then our fee is deducted from the amount that we win for you."
About Danziger & De Llano:
At Danziger & De Llano, they truly care about their clients, and that will be evident from the very first call a person makes to the firm. The compassionate staff treats everybody with kindness and patience, and will set up a free appointment for new clients to talk to one of the firm's legal professionals about their case. For more information, please visit http://www.burninjuryclaims.net/