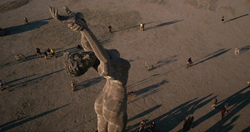 "burning man is a very inspiring place, you can come out here and build a sand castle and that can be your art or you can build a sixty foot woman. Everything is accepted out here"- Jeff Schomberg, co-artist of Believe.
Los Angeles, CA (PRWEB) June 20, 2014
Independent filmmaker Arnaud Paris and producer Andrea Biscaro have launched a campaign on Indiegogo, the world's largest global crowd funding platform, to raise funds to complete their film, The Art of Burning. The film, shot for giant screen formats in 5K 3D, aims to immerse moviegoers in the stunning and wild environment of Burning Man, while bringing them face to face with the art, artists, and the inspirations that drive them. The film will serve as a living document of this important cultural experience as well as provide a vivid depiction of the largely unknown art that is exhibited there.
Indiegogo campaign: http://igg.me/at/burningmanmovie
For many, this film will be the only way to see the Burning Man art installations of 2013 as the pieces are, for the most part, only exhibited during week of the event to the festival goers and are then destroyed or dismantled – often permanently. This indiegogo campaign aims to raise the necessary funds to finish the editing, sound mixing, color grading, music and other post-production work that is required to finish the film. With these completion funds, The Art of Burning could be finished as early as October 2014.
"Burning Man art has become a movement in itself, it is my hope that this film helps give it a voice and space outside the festival to the larger global audience," explained Director Arnaud Paris
To support the film, the featured artists are donating original sketches, drawings and signed photo prints as thank-yous to contributors. Some of donated art includes: original signed photo prints from photographer Michael Garlington, framed sculptural 3D wall piece using vintage music sheets from installation artist Jena Priebe, signed sketches from sculptor-painter Michael Christian, an original charcoal drawing from artist Rebekah Waites, and original bronze pendants from sculptor Marco Cochrane. "We have been very humbled by the outpouring of support from the artists. From Day 1 it has been a collaborative effort and it is my wish that this film remains faithful to their vision and experience," explains Arnaud Paris, Director of the film.
Arnaud Paris and his team have been working on The Art of Burning for over 3 years and won a grant from the French Film Commission for the project. Paris, along with producer Andrea Biscaro, supplemented the grant with their own funds to cover the substantial costs of shooting at Burning Man in 3D for giant screens. Additionally, both the French and Italian teams donated their time and equipment to the film.
The artists that were followed all received grants from Burning Man. Some have established art portfolios in esteemed museums like the MOMA in New York, others are emerging artists who only exhibit at Burning Man. Additionally, some of the artists followed traveled thousands of miles to exhibit at Burning Man, from Russia, France, and South Africa; bringing with them their crews, artwork and ideas.
Burning Man could be considered an incubator for emerging artists as well as the largest outdoor museum in the world. It is also the largest venue for interactive art and showcases a variety of mediums, including sculpture, mechanical, light, sound, and performance art. The transformation of The Black Rock Desert into Black Rock City occurs over a matter of weeks, and becomes home to 68,000 people for one week each year.
Film website: artofburningmovie.com.
Stereocorp 3D was founded in 2004 as an independent 3D production company based in Paris, France. For more information about Stereocorp 3D, visit http://www.stereocorp3d.com.