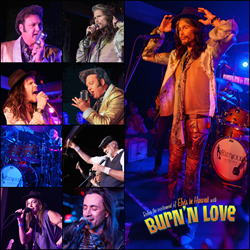 "I actually thought I was watching Elvis..." - Tom Moffatt, entertainment mogul who was responsible for bringing Elvis to Hawaii.
Lahaina, Hawaii (PRWEB) January 20, 2015
The star of Burn'n Love - TripAdvisor's "#1 Attraction on Maui" – rang (or rather, sang) in 2015 with legendary musicians Mick Fleetwood, Steven Tyler and many more at Fleetwood's on Front St.'s "A Night With the Stars" celebration. Award-winning Darren Lee performed at the sold out event with Fleetwood and Tyler, among other famed rockers like Rick Vito, Nuno Bettencourt, and Lenny Castellanos. This rare collaboration of such a stellar line up of musicians sets the bar for future holiday celebrations on Maui and solidifies Darren Lee's place among the stars.
Fleetwood, who visited Burn'n Love on multiple occasions and even joined Darren on stage for an impromptu performance during the New Year's Day showing of Burn'n Love, owns the successful Maui restaurant and invited Darren to be part of its New Year's Eve bash.
Burn'n Love opened at Maui Theatre in Lahaina in December 2013 and within weeks became TripAdvisor's #1 Maui Attraction according to traveler reviews. It was named "Top 10 Maui Shows of 2013" by Maui News, among other rave reviews by critics worldwide.
Hawaii entertainment mogul Tom Moffatt attended the opening of Burn'n Love and called it the "best new show in Hawaii in years." He went on to say "I actually thought I was watching Elvis" – an authoritative compliment being that Moffatt was actually responsible for bringing Elvis to Hawaii and spent a lot of time with "the King."
Burn'n Love was created especially for Hawaii and takes audiences through the time Elvis spent in Hawaii and its influence on his music, movies and life. It started when the show's Executive Producer Mike Kattawar met Darren in Las Vegas and recognized his talent. With years of entrepreneurial experience and a number of businesses already under his belt (Kattawar currently owns and runs the successful logistics and supply chain business, K-Power Global Logistics), he saw the opportunity to bring a great product to Maui, while honoring Elvis' legacy and love for the islands and contributing to the local community.
"Maui has been great to us," said Kattawar. "The people are really, truly special and our first priority is to take care of them, like they've supported Burn'n Love and like they cared for Elvis in Hawaii during his visits."
Burn'n Love donates a portion of every ticket sold to Maui Food Bank, a local non-profit organization that helps feed the hungry on Maui, Lanai and Molokai. Additionally, the show holds several fundraisers a year for various organizations and causes.
"Burn'n Love has provided over 40,000 meals to the less fortunate in Maui County through ticket sales," said Richard Yust, Maui Food Bank Executive Director. "Darren, and the entire show's cast, crew and ownership exemplifies the aloha spirit that Elvis was known for in these islands, and we are very thankful."
Burn'n Love shows nightly at Maui Theatre in Lahaina. Days and times may vary seasonally. Visit http://www.BurnnLove.com or call (808) 856-7900 for more information.