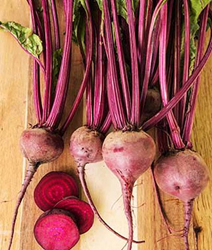 You can't make a nice bowl of borscht without beets.
Warminster, PA (PRWEB) April 05, 2017
With the recent announcement that First Lady Melania Trump intends to retain the much-heralded White House Kitchen Garden, one big question in the home gardening community is, which vegetable varieties will make the cut for this spring's 2017 planting and will there be beets?
"Former First Lady Michelle Obama had a wide selection of hybrid and heirloom varieties in the Garden, with a smattering of 'Down South' vegetables, such as collard greens and other choices associated with her Southern roots," according to George Ball, chairman and CEO of the home gardening company, W. Atlee Burpee. "Don't be surprised," Mr. Ball says, "if the new White House Kitchen Garden takes on a Slavic flavor in its updated version".
According to Mr. Ball, the new FLOTUS has a proud Slovenian heritage with ancestors who were reported to be heavily involved in plant breeding and vegetable gardening. Add to that the Czech influence from First Daughter, Ivanka's mother, as well as husband, Jared's Eastern European background, with grandparents born in Poland, Belarus and Ukraine, and no one should be surprised when a slew of root vegetables rule supreme.
"In home gardening, the contents of the garden usually reflect soil and climatic conditions to some extent, as well as what the planter likes to eat," says Mr. Ball. "The big question in my mind is whether beets will finally make it into the garden. This is a huge Eastern European favorite that has never been planted in the White House Kitchen Garden, because former President Barack Obama hated beets and reportedly didn't want them in the Garden."
W. Atlee Burpee Company and The Burpee Foundation are the sole private sponsors of The White House Kitchen Garden, having donated $2.5 Million to maintain and preserve the Garden in future years. The donation was made last year (2016) to the National Park Foundation.
The Bucks County, PA based company lists more than a half dozen different varieties of beets in its new 2017 Annual Catalogue, and, according to the Burpee chairman, "we will gladly provide samples that are suitable for planting in our Nation's capital."
"One thing you can be sure of," Mr. Ball concludes, "whether you like it cold or hot, with or without sour cream, you can't make a nice bowl of borscht without beets."
For an interview with George Ball and/or additional artwork, please contact Gaynor Hannan at 215.674.4900 x1401 ghannan(at)burpee(dot)com.
About Burpee
A true heritage brand, W. Atlee Burpee Company was founded in Philadelphia in 1876 by W. Atlee Burpee, an 18-year-old with a passion for plants and animals, and a mother willing to lend him $1,000 of "seed money" to get him started in business. Within 25 years he had developed the largest, most innovative seed company in the world. By 1915 Burpee was mailing a million catalogs a year to America's gardeners. Today, Burpee is owned and operated by George Ball. It is still a family seed and plant company and still in the Philadelphia area. Burpee's seeds and plants are available — and guaranteed — for all growing zones and for all seasons. The company's highly recognizable catalog is available in December each year. Seeds and plants can be ordered by mail, phone and online. For more information, gardening techniques, recipes, gift cards and more, visit http://www.burpee.com or call 1-800-888-1447.