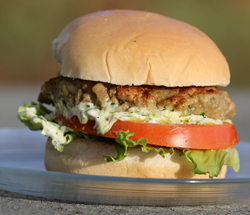 The ultimate meatless veggieburger made with Burpee's new 'Meatball' eggplant topped off with all the fixings.The recipe is on Burpee's website, www.burpee.com, along with other gourmet recipes using 'Meatball' as a more healthful alternative for meat.
(PRWEB) February 15, 2016
One of home gardening's unsung heroes, the venerable eggplant, is gleaning a lot of attention for the 2016 season, with the introduction by W. Atlee Burpee Company of a new variety that is an excellent substitute for meat.
According to George Ball, who heads Pennsylvania-based Burpee, the company's new 'Meatball' eggplant is totally different from any other eggplant currently being sold, and the new variety is attracting hordes of home gardeners who, it appears, never before planted an eggplant.
'Meatball's meaty texture, overall mouthfeel and flavor make it an eggplant like no other, explains Burpee's chairman and chief executive. What makes 'Meatball' a game-changer, he notes, is the sweet, succulent, buttery taste, and dense, meaty consistency.
'Meatball' overcomes three eggplant gripes, Mr. Ball points out: seeds with a bitter aftertaste, surplus water, and fast-oxidizing flesh that quickly turns brown.
Home gardeners have always been aware of the superior taste and freshness of home grown vegetables, but with products like the 'Meatball' eggplant it appears the activity is now attracting huge numbers of first-timers seeking a viable alternative to a constant diet of meat. This is creating a bit of a problem. Mr. Ball says, as Burpee's help-lines are inundated with phone calls asking for directions for planting eggplants.
"Both from seasoned home gardeners who never before grew eggplants, and those being attracted by products such as 'Meatball', we have received hundreds of inquiries regarding the proper way to grow an eggplant." According to Mr. Ball, Burpee will send 'Meatball' eggplant plants directly to home gardeners just before it's time to plant them depending on where someone lives. "They are very hardy plants and are among the easiest to grow."
Burpee's website, http://www.burpee.com, provides step-by-step instructions on planting eggplants, both from seeds as well as plants. There are also easy to follow recipes for using 'Meatball' eggplant as a substitute for meat. For first-timers Mr. Ball recommends ordering 'Meatball' plants rather than seeds. Planting instructions follow:
After 3-4 days of outdoor acclimation, transplant to the final growing location -- in ground, containers, or raised beds -- placing root ball even with the soil line, firming lightly, and watering-in to settle soil around the roots. Space plants 24-36" apart. Keep plants well watered with 1-2" of water during the growing season. For best results, stake or cage plants at time of transplant to add support and increase air flow. If desired, apply liquid fertilizer to the surrounding soil at first flower, and again at fruiting, with a balanced vegetable formula.
Fully ripe Meatball eggplants can be expected two months after planting.
For an interview with George Ball and/or additional artwork, please contact Gaynor Hannan at 215.674.4900 x1401 ghannan(at)burpee.com.
About Burpee
A true heritage brand, the Burpee Co. was founded in Philadelphia in 1876 by W. Atlee Burpee, an 18-year-old with a passion for plants and animals, and a mother willing to lend him $1,000 of "seed money" to get him started in business. Within 25 years he had developed the largest, most innovative seed company in the world. By 1915 Burpee was mailing a million catalogs a year to America's gardeners. Today, Burpee is owned and operated by George Ball. It is still a family seed and plant company and still in the Philadelphia area. Burpee's seeds and plants are available — and guaranteed — for all growing zones and for all seasons. The company's highly recognizable catalog is available in December each year. Seeds and plants can be ordered by mail, phone and online. For more information, gardening techniques, recipes, gift cards and more, visit http://www.burpee.com or call 1-800-888-1447.