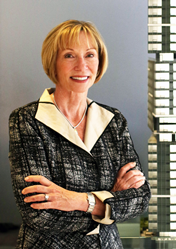 "The remaining collection at NEXUS presents our largest home plans, including penthouses and Skylofts, with premier specifications and commanding views," said Billy Mainguy, Vice President of Strategy for Burrard.
SEATTLE (PRWEB) March 11, 2019
Executives of Burrard Group and Realogics Sotheby's International Realty (RSIR) have appointed real estate veteran Julie McAvoy to project sales director for NEXUS Condominiums — a 389-unit, 41-story high-rise tower in the northeast corner of downtown Seattle at 1808 Minor Avenue at Howell Street. Having already presold 361 homes, the NEXUS Sales Center was closed on June 30th, 2018 and the remaining 28 homes were removed from the market until recently. New listings include one-, two-, and three-bedroom condominium flats and Skylofts, exclusive to NEXUS, priced from below $1 million to more than $2.7 million with occupancy by late 2019 — the soonest amongst all the new construction condominiums in downtown Seattle.
"We welcome Julie to lead the closeout of NEXUS — she is an extraordinary real estate broker and will bring years of planning, development and marketing to a successful sales conclusion yet again" said Dean Jones, president and chief executive officer of RSIR. "As a downtown Seattle resident and an experienced project marketing expert, our developer and existing homebuyers will be well represented."
Jones has worked alongside McAvoy at several pivotal different projects during past cycles including the 229-unit Olive 8 in the Retail and Theater District and 261-unit 2200 at the gateway to South Lake Union, each time establishing new benchmark results. More recently, Julie successfully led the marketing and sales of 168-unit LUMA on First Hill — a first-of-its-kind high-rise, which successfully closed out in 2016.
"I can certainly understand the market demand for NEXUS, having represented several communities that envelope this prime location," said McAvoy. "I also live within a few blocks of NEXUS and can attest to the residential renaissance that is taking place in this neighborhood. Burrard had the foresight to envision a unique offering in NEXUS and I look forward to delivering the community to its new homeowners in time for the holidays."
McAvoy points to more than two dozen high-profile projects under construction and planned within moments of NEXUS, including several million square feet of office space, hundreds of thousands of square feet of new retail including new grocery stores, the $1.8 billion expansion of the Washington State Convention Center and other visionary improvements such as the Lid I-5 initiative, which plans to cap the I-5 highway cut and connect downtown Seattle to First Hill and Capitol Hill with elevated parks. Unsurprisingly, more than 10,000 high-rise multi-family units are quickly turning the immediate neighborhood into a vertical residential enclave, however remarkably, NEXUS remains the only community offered for individual homeownership.
"I remember when we were selling condominiums more than decade ago and consumers couldn't comprehend the impact of the South Lake Union Streetcar or the planned growth of area," adds McAvoy. "Fast-forward to today and the northern migration of downtown Seattle is in clear view with billions of dollars of capital investment building a city within a city — it's all very exciting and soon, hundreds of NEXUS homebuyers will own a slice of that dynamic skyline."
Presales have become more popular in Seattle in recent years, allowing a prospective buyer to secure a new home several years before occupancy — locking in preferred pricing and personalizing the interiors. McAvoy says the remaining homes at NEXUS will be particularly attractive to move-up buyers that are seeking the next generation condominium or downsizing empty-nesters exploring city living for convenient "lock and leave" lifestyles.
"The remaining collection at NEXUS presents our largest home plans, including penthouses and Skylofts, with premier specifications and commanding views," adds Billy Mainguy, Vice President of Strategy for Burrard. "We feel that reintroducing these homes for presales now will stand out in the marketplace with inherent advantages — we offer homebuyers enviable market timing and competitive pricing compared to our peer group. We also want to provide new homebuyers with sufficient time to sell a home, if necessary, and move into NEXUS later this year."
Mainguy notes construction costs have risen 6-8% per year, since Burrard broke ground on NEXUS in Spring 2017. The tower will be officially topped off on March 11th with occupancy by late 2019, approximately a year before other condominiums in the pipeline.
"If we were to break ground now, we'd have to price our homes 12-16% more just to cover the increase in construction costs," adds Mainguy. "Fortunately, our homebuyers and our contractors locked in ahead of the price escalation, which creates real value."
New listings posted to the NWMLS include a representative collection of the remaining NEXUS inventory:

Unit 1805 | 1 Bedroom/1 Bathroom | $999,950 | Int. SF: 713 | Ext. SF: 208 | Total SF: 921
Unit 1905 | 2 Bedroom + Den/2.5 Bathroom | $2,395,950 | Int. SF: 1,738 | Ext. SF: 289 | Total SF: 2,027
Unit 3600 | 2 Bedroom + Den/2 Bathroom | $1,924,950 | Int. SF: 1,350 | Ext. SF: 563 | Total SF: 1,913
Unit 3710 | 3 Bedroom/2 Bathroom | $2,179,950 | Total SF: 1,518
Unit 3802 | 2 Bedroom/2 Bathroom | $1,279,950 | Total SF: 941
PH101 | 3 Bedroom/2 Bathroom | $2,199,950 | Total SF: 1,500
To showcase the evolving neighborhood and introduce new NEXUS team members, Burrard will celebrate a Topping Off Celebration and Cityscape 2020 Exhibition for existing and prospective homebuyers on April 11th, 2019. For more information on upcoming events and NEXUS listings, visit: http://www.NEXUSseattle.com
About Burrard Group (http://www.Burrard.com) — The Burrard Group (and its affiliate companies) have been active in the real estate industry since 1977, building a diverse portfolio of successful master-planned communities, multi-family and single-family residential developments, commercial projects, lodging properties and golf courses. Having established an office in Seattle, Burrard is committed to the Pacific Northwest region with its first project, NEXUS, in a pole position within the current condominium housing cycle.
About Realogics Sotheby's International Realty (http://www.RSIR.com) — Artfully uniting extraordinary homes with extraordinary lives, Realogics Sotheby's International Realty is a leading global sales and marketing brokerage firm in the Pacific Northwest. Recognized by the Puget Sound Business Journal amongst the fastest-growing private companies in Washington State in recent years and ranked #8 in the top ten largest residential real estate brands, the boutique real estate firm of 235+ brokers service branches in downtown Seattle, Bainbridge Island, Kirkland, Issaquah and Madison Park. RSIR is a leading project marketing specialist currently representing more than $1 billion in new condominium developments planned throughout the Puget Sound region.
EDITOR'S NOTE: Property renderings, development team headshots, bios and additional market statistics are available upon request.