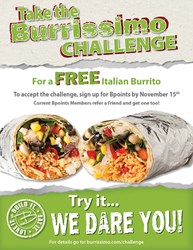 ...today, the Burrissimo Italian Burrito is the star of the show and we're challenging anyone to try it for free.
Rancho Santa Margarita, CA (PRWEB) November 08, 2013
Burrissimo™ Fast Fresh Italian, the fast-casual restaurant concept that introduced its signature Italian Burrito late last year, is challenging the public to try their signature Italian Burrito absolutely free! Accept the challenge to get your Italian Burrito by Friday November 15th at Burrissimo.com/Challenge.
"This is an excellent opportunity for anyone who hasn't yet experienced the concept for themselves," said Marlinda Bojorquez, General Manager, Burrissimo Brea, "Our Bpoints Rewards Members can also earn a complimentary Italian Burrito if they refer a friend who accepts the challenge– it's an exciting, win-win opportunity for everyone!"
"At Burrissmo guests choose an entrée at the counter and we build it to their specifications, assembly-line style," said founder and owner, John Parlet. Entrée choices include Burrissimo's signature Italian Burritos, pasta bowls and salad bowls - and now available at Burrissimo in Brea only - a 10" artisan pizza, with gluten free crust upon request. "With all of our fresh toppings and homemade sauces, pizza is a natural addition to our entrée choices. We make the dough fresh daily, top it to each guest's specifications and bake it in our stone hearth pizza oven while guests watch and in only about three minutes," explained Parlet. "But today, the Burrissimo Italian Burrito is the star of the show and we're challenging anyone to try it for free."
From grilled chicken and steak, to homemade meatballs and sautéed vegetables, Burrissimo sets out to offer something delicious for everyone. Freshly grilled salmon, vegetarian options and gluten free pizza crust will please guests with dietary restrictions. Guests can dine-in or enjoy patio seating. Take-out and party platters are also available.
What else sets Burrissimo apart? At less than $10 for an entrée and drink, it's fast, fresh and affordable. To make that value stretch even further, Burrissimo's Bpoints Rewards program allows guests to earn free food very quickly. A point is earned for every $3 spent and three points can be earned when a referred friend makes their first purchase. When a guest accumulates 30 points, they receive a complimentary entrée. No coupons are needed and rewards go directly to the guest's account. Burrissimo guests can enroll in Bpoints Rewards online at http://www.burrissimo.com/bpoints or download the Burrissimo app on their [Android or iPhone.
Participants of Burrissimo's Attack of the Italian Burrito Challenge must accept the challenge by enrolling in Bpoints Rewards before midnight 11/15/13 to be eligible. Current Bpoints Members must refer a friend who enrolls by midnight 11/15/13 to be eligible. One Complimentary Italian Burrito Reward per eligible Bpoints Member. Complimentary Italian Burrito Reward valued at $7.49 is redeemable 11/16/13 through 11/22/13 at any Burrissimo location. For location and hours visit Burrissimo.com/locations.
###
ABOUT BURRISSIMO
Burrissimo™ Fast Fresh Italian is a privately held company founded by John Parlet and managed through JIPC Management, Inc. the support center for Burrissimo™ Fast Fresh Italian and John's Incredible Pizza Company, located in Rancho Santa Margarita, CA. The first Burrissimo™ Fast Fresh Italian location opened to the public on December 29, 2012 in Costa Mesa, CA with a second location opening in Brea, CA on September 17, 2013. Additional locations are currently in development. For more information, visit Burrissimo.com
Burrissimo™ Fast Fresh Italian - Brea
103 W. Imperial Hwy
Brea, CA 92821
(714) 494-1866
Burrissimo™ Fast Fresh Italian - Costa Mesa
1534 Adams Ave
Costa Mesa, CA 92626
(714) 206-1682