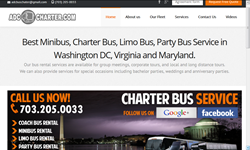 The buses we offer have latest facilities such as TV sets, DVD player, video games, and stereo systems
Washington (PRWEB) May 02, 2015
Transportation is a major issue that one faces when out on a vacation with friends or relatives. In such cases one should rely on transport providers in the area that provide charter buses at affordable rates. But if one hires a bus on rent then there would be no hassles because it will take one to different locations within a short span of time and that too at lesser rates. It would act as if it is their personal vehicle and this will ensure that one visits different locations comfortably.
One of the staff members of the ADC Bus Charter said, "The buses we offer have the latest facilities such as TV sets, DVD player, video games, and stereo systems. We have trained drivers and co-operating staff which will ensure that you get the best experience on the tour."
Visiting a new place is usually a bit difficult but hiring a rental bus makes it easier and comfortable. You can visit different locations comfortably within a short span of time and that too at low rates. Rental bus services provide trained drivers and trained staff ensuring a secure ride. But, before deciding about the transporter ensure that the transporter has a good reputation in the area and check if they are offering any discounts on their packages. Minibuses can be used for casino, horse racing tracks, amusement parks and outdoor theatre visits.
"We have been providing bus services in the Washington DC for many years. You can book our services for business meetings, wedding and anniversary parties. We ensure if you hire us we will provide you with the best transport which will make your vacation a memorable experience," further said the staff member.
ADC Bus Charter is one of the well-known rental Bus Companies In Washington DC, providing 24-30 passengers' minibuses and besides this they also provide 18-40 passengers party buses, 47-61 pax charter buses and 15-40 seater Limo buses. One can use them for wedding and anniversary parties along with casino & outdoor trips.
About ADC Bus Charter:
ADC Bus Charter is the leading rental bus services provider in DC offering rental Bus Tours in Washington DC, and they have special packages for casino trips, outdoor trips, birthday, wedding and anniversary parties through Limo and pax buses. They have a trained staff which will ensure to make one's visit a memorable experience. For anyone requiring shuttle bus service In Washington DC, they are the right company.
Contact Details:
ADC Bus Charter
Email: adcbuscharter.com
(703)205-0033
Website: http://www.adcbuscharter.com
# # #