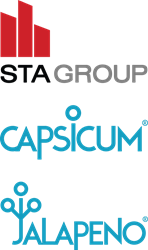 Chicago, IL (PRWEB) October 29, 2016
Based on Capsicum's unique semantic-based modeling framework, the cloud-based Jalapeño platform provides meta-model templates for designing and aligning a strategic business plan and a target operating model with the technology solutions that support business operations. STA Group's Business Architects work with Capsicum's US clients' business teams to help model their operations and the lifecycle of information supporting their core business processes, enabled by the Jalapeño platform.
"We believe that applying Capsicum's architecture framework and cutting-edge Jalapeño modeling tool to our clients' businesses offers tremendous value through organizing, accelerating, and making visible their architectural assets," said Peter Blackwood, STA Group Business Architecture Practice Director.
Terry Roach, founder and CEO of Capsicum, said, "We recognized that partnering with STA Group, a long-recognized leader in the Business Architecture domain, aligns us well with our US clients' needs to rapidly describe and define their business as they work toward developing solutions to meet today's demands."
Capsicum will be unveiling their first full-production release of the Jalapeño tool in early November at the BBC conference in Las Vegas, November 1-4, 2016. The company has been working diligently over the past couple of years to develop their Jalapeño platform, using it actively in support of current clients.
STA Group is a privately-held US consulting firm with practices in Architecture, Technology Services, Internet of Things (IOT) and Digital. STA's consultants have proven enterprise architecture experience, with an average of over fifteen years of professional experience across a multitude of industry sectors.
For more information, please contact STA Group Architecture Practice Director (peter.blackwood(at)stagrp(dot)com) or Capsicum (sales(at)capsi.com(dot)au).