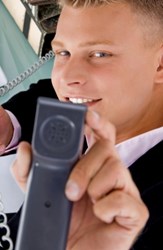 Business owners often pay more for average services based on commercial rates that companies charge especially in the insurance industry.
New York, New York (PRWEB) November 11, 2013
Insurance rates for the average person can be very different compared to commercial rates charged to business owners protecting work vehicles. The Auto Pros company has now added business auto insurance costs inside its database of national providers online at http://autoprosusa.com/insurance.
This provider information is now helping more business owners to find affordable policies for multiple vehicles used for company services. Companies that are providing multi-vehicle rates are now included in the search system available.
Business owners are now able to research more than one company to help locate the most affordable rates in one click. This national provider database offers a no charge way to begin reviewing premium information without entering business or driver data.
"Business owners often pay more for average services based on commercial rates that companies charge especially in the insurance industry," an AutoProsUSA.com company source said.
A drawback to the commercial insurance industry is the higher risk that most companies attach to a company purchased policy. Insurance companies often require a more in-depth review of each driver protected under a policy to help supply the best rates information.
The rates system for business use now online factors in many of the types of criteria that companies use during the quotes process. A zip code is now used for researching pricing in specific areas to help supply rate quotes that include national averages and taxes.
"Our database was programmed to offer the most complete source of data to companies without requiring phone calls, interviews or other work that goes into locating insurance policy rates information," the source included.
The business insurance database now available is in comparison with a database for warranty programs that business owners can use to find a repair program for any vehicle type. This database at http://www.autoprosusa.com/auto-warranty can be useful to business owners seeking ways to cover vehicles against damage or breakdowns.
About AutoProsUSA.com
The AutoProsUSA.com company provides one of the most simplest to use insurance quotes systems that is available online. The programmed system is now offered free of charge to website visitors. The auto parts branch of this company continues to provide quotes for parts and accessories to the general public. The AutoProsUSA.com company staff offers immediate solutions for customer service and feedback. The company toll-free number is now a rapid method to receive company assistance. Parts partners and other fulfillment partners are added monthly by this company to expand the services and solutions now provided to the public.