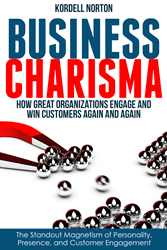 Those who develop their charisma abilities are shown to get more raises, have less turnover, are happier, are more prone to get along with others, and are given more responsibility.
Cuyahoga Falls, OH (PRWEB) August 26, 2015
Author Kordell Norton announces eBook release of 'Business Charisma - How Great Organizations Engage and Win Customers Again and Again.'
Over the last twenty five years business in America has moved from customer "satisfaction", to a focus on the customer "experience". Now the customer is demanding more. They are looking for a personal relationship. "It is getting so the experience is not enough," says author Kordell Norton. "Today the customer wants an experience and a special relationship that goes beyond a transaction. Our research has a term for this . . . Business Charisma. It is a special connection with customers for which there is no substitute."
Using surveys and research over the past two years, Norton has determined the charismatic qualities in the most customer engaged businesses. The list had the usual suspects like Disney, Apple Computer, Trader Joe's, and Harley-Davidson. In addition there were a few non-traditional names in the list like Cirque du Solei, and The Beatles.
"We discovered non-traditional behaviors in charismatic organizations that make them stand out," says Norton. "An example is the ability to provide Time Travel for customers. You have a Disney vacation that allows Mom and Dad to re-live their childhood, while transporting their kids to a fantasy in one of the Lands (Tomorrowland, Tune Town, Radiator Springs). This Time Travel concept is just one of eight aspects these businesses share."
"Take the trend of seeing the business as a stage play, an Arena for a customer 'show'. Charismatic organizations look beyond the day-to-day, and instead look at engagement even before the customer enters the business, or after they leave."
The book also looks at skills for the reader, that can make them personally more charismatic. "Charisma can now become a set of learned skills," says Norton, "that can improve how you interact with others. It allows everyone to make their 'bed-side manner' more warm, personable, and connecting." Those who develop their charisma abilities are shown to get more raises, have less turnover, are happier, are more prone to get along with others, and are given more responsibility.
Businesses with charisma have better customer relationships, are more profitable, are worth more in the market, charge more for their product, have leadership that is twice as effective, sell more, and have better morale with their employees.
The eBook edition of 'Business Charisma' is published by eBookIt.com. Copies are available upon request for media inquiries and book reviewers. Mr. Norton, a professional member of the National Speakers Association, and frequent contributor to print and industry publications is also available for interviews and article creation.
'
About the Author
Kordell Norton, CSP - works with organizations who want to take their customer relationships to the next. The author of six books, he is aCertified Speaking Professional member of the National Speaker Association. He presents internationally to thousands each year. He can be reached at http://www.KordellNorton.com or (440) 744-4864.
About eBookIt.com
Since 2010, eBookIt.com (based in Sudbury, Massachusetts) has helped thousands of authors and publishers get their books converted to ebook format, and distributed to all the major ebook retailers, including Amazon.com, Barnesandnoble.com, Apple iBookstore, Kobo, Sony Readerstore, Ingram Digital, and Google eBookstore.
###