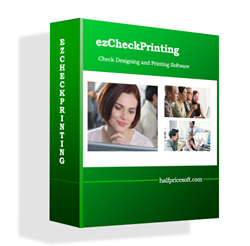 Data import feature available in ezCheckprinting for changing computers!
Raleigh, NC (PRWEB) November 24, 2014
Everyone knows that computers will crash or need to be replaced at some point after purchase. Halfpricesoft.com developers don't want to penalize customers that need to move their ezCheckprinting software data to a different machine. Whether the computer has crashed or customer's simply want to buy a new machine, ezCheckprinting software allows for business owners to switch machines easily without worry of losing valuable information. There is a backup, more and restore function for the software to easily be moved.
"ezCheckprinting business check writer data can be moved or restored easily if current machine crashes." said Halfpricesoft.com founder Dr. Ge.
Known for affordability and ease-of-use, ezCheckPrinting software from Halfpricesoft.com is extremely popular with consultants who have just started their entrepreneureship. Starting small and growing the business is what every business owner dreams of. With updated ezCheckprinting, customers can grow the business without outgrowing or paying more for their business check writing software. The new edition makes it even easier to work with ezPaycheck, Quicken, Quickbooks, Peachtree or other software.
Thousands of customers across the US prefer ezCheckPrinting MICR & laser check printing software because this check writer software is simple and easy to use, handles all their check printing needs - including customized layouts - and is very affordable.
Check writer increases security
With ezCheckPrinting, customers can print checks when needed, rather than having pre-printed checks lying around. This minimizes theft opportunities.
Check writer saves customers valuable time
ezCheckPrinting gives customers the option to print recurring checks or duplicate checks to save time.
Businesses can import the check data from external checks and print hundreds of checks with just a few clicks. This import feature enables ezCheckPrinting print checks for QuickBooks, Quicken, ezPaycheck, Peachtree or other software.
Tax time is simplified with check printing software. Just a few clicks of the mouse generates a full report of all the checks you've written in the past year
Check writing software saves money
Using blank check stock is much less expensive than having checks pre-printed. Plus, if user ever has to change banks or change the address or other information on checks, he doesn't have to have new checks printed.
Customers don't have to pay a monthly fee for using ezCheckprinting check writer. It's available at the low one time cost of $39.00.
To make ezCheckPrinting software available for any size business, Halfpricesoft gives buyers a new way to get free products by partnering with TrialPay, the leader in alternative online payments. Buyers can now get full version check printing software and Laser Blank Computer Check Paper for Free when they try or buy an offer from one of TrialPay's 2,000 blue-chip advertisers.
This Free offer is available through recurring promotions at halfpricesoft.com
http://www.halfpricesoft.com/product_ezCheck.asp
About halfpricesoft.com
http://www.halfpricesoft.com
Halfpricesoft.com is a leading provider of small business software, including payroll software, employee attendance tracking software, check printing software, W2/1009 software, and barcode generating software. Today Software from halfpricesoft.com is trusted by thousands of users and help small business owners simplify their payroll processing and business management.