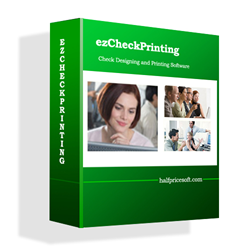 Compare ezCheckprinting with other business check writers for peace of mind before purchasing.
New York. NY (PRWEB) December 22, 2014
Halfpricesoft.com developers have compiled a list of 5 things to look for when selecting a business check writer software for small companies. ezCheckprinting is a top seller for convenience, cost and ease of use. ezCheckPrinting software developers invite potential customers to compare this innovative software to others on the market to see how compatible it is with company requirements.
"Compare ezCheckprinting with other business check writers for peace of mind before purchasing," said Halfpricesoft.com founder Dr. Ge.
Business owners can also change the look of the checks monthly with this innovative application. The new edition also makes it even easier to work with ezPaycheck, Quicken, Quickbooks, Peachtree or other software. Potential customers can try the software at http://www.halfpricesoft.com/check_printing_software_download.asp.
Thousands of customers prefer ezCheckPrinting MICR & laser check printing software because this check writer software is simple and easy to use, handles all their check printing needs - including customized layouts.
Five Easy Steps to Choose the Right Business Check Writer for Small Business Owners-
Step 1: Save the Company Time and Money
When choosing software, be sure to choose one that is easy to learn and use. An easy to follow interface with low cost is a customer's best bet in a business check writer.
Step 2: Choose Check Writers That Are Flexible
By choosing a business check writer that allows users to personalize checks in house, time and money will be saved. Some software applications are more flexible and allow for blank check stock as well as pre printed checks to be used.
Step 3: Look for Check Software That Lets Businesses Import Data from an External Source
Try to find software that can import check data from a CSV file to allow printing multiple checks in just a few clicks. This ensures flexibility and will save a lot of time.
Some software applications can work with Quickbooks or Quicken. This is one way to reduce cost in printing on blank check stock.
Step 4: Look for an Easy-to-use Interface
One of the most common reasons for choosing a business check writer is to save on overhead for the company. Software should be easy to use without having to hire an accountant to run it. The key is the graphical interface—the window or screen that displays options and accepts the data entered. Also, most companies should offer a quick start guide to show step by step instructions on setup, problem solving and general information.
Step 5: Take Potential Software for a Trial Run
The best way to determine if a software will work for a company is to try it before purchasing . Reliable software developers who create quality products actually allow customers to try the software with no cost or obligation before making a purchase.
To make ezCheckPrinting software available for any size business, Halfpricesoft gives buyers a new way to get free products by partnering with TrialPay, the leader in alternative online payments. Buyers can now get full version check printing software and Laser Blank Computer Check Paper for free when they try or buy an offer from one of TrialPay's 2,000 blue-chip advertisers.
This free offer is available through recurring promotions at halfpricesoft.com.
http://www.halfpricesoft.com/product_ezCheck.asp
About halfpricesoft.com
http://www.halfpricesoft.com
Halfpricesoft.com is a leading provider of small business software, including payroll software, employee attendance tracking software, check printing software, W2/1009 software, and barcode generating software. Today software from halfpricesoft.com is trusted by thousands of users and helps small business owners simplify their payroll processing and business management.