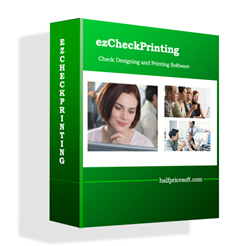 ezCheckprinting business software gives customer's a less expensive solution to streamlining the company finances.
Boston, MA (PRWEB) April 24, 2015
Businesses that need to streamline and reduce expenses within the company are switching to ezCheckprinting business check writer. This innovative office tool allows companies to print checks in-house, using blank check stock for a less expensive bill paying solution. The software team at Halfpricesoft.com have created this application for both Windows and Mac customer's for added customer convenience.
"ezCheckprinting business software gives customer's a less expensive solution to streamlining the company finances." said Halfpricesoft.com founder Dr. Ge.
The easy to install and use business check writer, EzCheckprinting is now also compatible with MAC, Windows 8.1, 8, 7, Vista, XP and also has network capability. This allows business owners to stop wasting precious time on frustrating extended learning curves typically associated with check writing software applications.
Thousands of customers use ezCheckPrinting MICR & laser check printing software because this application is simple and easy to use, handles all check printing needs - including customized layouts and is very affordable.
A few benefits of ezCheckprinting are:
Check writer increases security.
With ezCheckPrinting, customer's can print checks when he needs them, rather than having pre-printed checks lying around, minimizes opportunities for someone to steal the checks.
Check writer saves time for users.
Customers can import the check data from external checks and print hundreds of checks with just a few clicks. This import feature enables ezCheckPrinting print checks for QuickBooks, Quicken, ezPaycheck, Peachtree or other software.
Tax time is simplified with check printing software. Just a few clicks of the mouse generates a full report of all the checks you've written in the past year
Check writing software saves money.
Using blank check stock is much less expensive than having checks pre-printed. If a customer ever has to change banks or change the address or other information on checks, he doesn't have to have new checks printed.
Another great reason customers purchase this check printing software is that it does not require an internet connection, making it more versatile for the small business that prefers or needs to run check writing tasks offline. Operating offline reduces risk hacking and virus contamination. An internet connection is only required when updating the software or using ezCheckprinting in conjunction with ezAch to issue direct deposit payments to employees' bank account.
Creating a check is simple with ezCheckPrinting! All customers have to do is to enter the date, payee's name and amount payable to the payee. This check writer will automatically convert numbers to words. Clients can write and print a check with just a few clicks. Potential customers can download the free demo version at http://www.halfpricesoft.com/check_printing_software_download.asp
with no cost or obligation.
Starting at just $39 per installation (Free through TrialPay offer), ezCheckPrinting is affordable for any size business and is compatible with all popular brands of laser printers (most of which can print bank-accepted MICR numbers) and specialized MICR printers.
To learn more about ezCheckPrinting check writing software and the win-win deals, user can visit http://www.halfpricesoft.com/product_ezCheck.asp
About Halfpricesoft.com
Founded in 2003, Halfpricesoft.com has established itself as a leader in meeting and exceeding the software requirements of small businesses around the world. Offering payroll software, employee attendance tracking software, accounting software, check writing/printing software, W2 software, 1099 software and ezACH deposit software. It continues to grow in the philosophy that small business owners deserve affordable, user-friendly, and totally risk-free software.