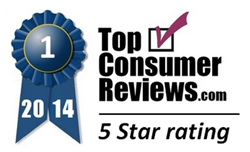 We're very pleased to receive TopConsumerReviews.com's highest rating... Thank you for acknowledging our hard work!
Overland Park, KS (PRWEB) April 11, 2014
TopConsumerReviews.com recently awarded their highest five-star rating to Carousel Checks, an industry leader in online Business Checks retailers.
"We're very pleased to receive TopConsumerReviews.com's highest rating," said Heather Blackburn, Vice President of Marketing for Carousel Checks. "Carousel is in-tune with the needs of businesses and makes check ordering quick and easy. Our focus is on the customer and providing professional quality business checks with free logo printing and no hassle ordering. With a large selection of business check options to meet a variety of accounting software, we are confident customers will find exactly what they're looking for at a great price. Thank you for acknowledging our hard work!"
Cutting the budget is a tedious task that nearly every company manages each year. One area of savings that many small to large companies have found is in their business checks. Ordering business checks from an outside company can be a huge savings over checks from a traditional bank. Not only do businesses spend more than they need, but they're also typically limited to a small number of check types and software options available through that bank. Online business check companies are focused on providing cost savings and a large selection of business checks for accounts payable, payroll, and general business needs.
"The quality and selection of business checks at Carousel Checks makes them stand out from the crowd," explained Brian Dolezal, of TopConsumerReviews.com, LLC. "Carousel Checks has been around since 2004 and caters to companies of all sizes. There's no need to call the bank and spend more than you have to on a limited selection. Carousel allows business check shoppers to easily browse through a huge variety of business check options right over the internet. And with Carousel, businesses will continue to enjoy the same great prices on reorders, unlike many other companies. Businesses will also appreciate the top notch customer service and fast turnaround that Carousel offers."
To find out more about Carousel Checks and other online business check retailers, including reviews and comparison rankings, please visit the Business Checks category of TopConsumerReviews.com at http://www.topconsumerreviews.com/business-checks/.
About Carousel Checks
Carousel Checks offers scores of unique check designs for personal needs and business checks. Designs range from nature paintings and national landmarks to artwork, Americana and wildlife. Carousel also provides a wide variety of business and payroll computer checks to meet the needs of any size business.
About TopConsumerReviews.com
TopConsumerReviews.com, LLC is a leading provider of independent reviews and rankings of hundreds of consumer products and services. From business checks to business phone systems and company incorporation, TopConsumerReviews.com delivers in-depth product evaluations in order to make purchasing decisions easier.