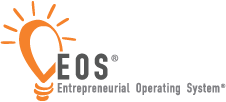 A Visionary and an Integrator must be on the same page
Livonia, MI (PRWEB) February 27, 2015
EOS Worldwide, the creator of the Entrepreneurial Operating System, has released a new video about ensuring that a company's Visionary and Integrator (or owner partners) get and stay on the same page to run a business effectively. In this video, available on YouTube, EOS founder Gino Wickman explains how "Same Page Meetings" function to bring these two key business leaders into alignment on everything that matters to their business.
"A Visionary and an Integrator must be on the same page" said Wickman. "It's completely...unfair to the leadership team for a Visionary and Integrator to always be at odds, because Level 10 meetings are less productive, Quarterlies and Annuals are much less productive."
The video, titled "Introduction to Same Page Meetings in the Entrepreneurial Operating System," walks you through the simple steps to conducting these critical meetings successfully.
To see the full video, go to: https://www.youtube.com/watch?v=86MnR2PGk1o.
EOS Worldwide works with private entrepreneurial companies around the world, helping good organizations become great organizations by holistically strengthening every component of the business. EOS Implementers also provide guidance in most other aspects of management such as workplace accountability, company vision, organizational processes, and data utilization. To see how EOS can help your business, take the EOS Organizational Checkup.
About EOS Worldwide:
For over 13 years, EOS Worldwide has given entrepreneurial managers and leaders a complete operating system and a suite of simple, practical tools for getting everything they want from their businesses. The Entrepreneurial Operating System® effectively strengthens businesses in most industries, and helps align assets, resources, and human energy to exceed expectations. EOS Worldwide is based in Livonia, MI.
To learn more about the Entrepreneurial Operating System, or if you have an interest in becoming an EOS Implementer who helps companies implement EOS, contact us by visiting http://www.eosworldwide.com.