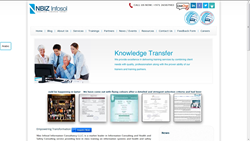 We work with an aim to become the biggest information solution providing company in Middle East by the year 2030.
Abu Dhabi, UAE (PRWEB) May 17, 2014
Nbiz Infosol is an Abu Dhabi based information system solutions providing company that offers quality consultancy and Information security, infrastructure security management and training services to various organizations in the Middle East. With an aim to help business professionals achieve their organizational goals, the company offers exceptional IT security, consultancy and training solutions. The comprehensive range of consulting services that the company is currently providing includes project management, system integration, outsourcing, information technology consulting and IT training. From the time when it came into existence, the company has gained a great reputation in the field of health and safety courses provider. To expand its business globally, the company has now opened a new branch office in Chennai which is one of the most popular Indian states. Nbiz Infosol offers its services to small as well as large-scale industries in Kuwait, Saudi Arabia, Oman, Qatar and United Arab Emirates. The company is now offering exceptional IT service management courses to students, auditors, managers and IT developers.
Speaking about information technology service management courses, one of the senior executives working with the company commented, "We offer a wide range of IT service management courses including IT Governance Implementation Workshop, Certified in the Governance of Enterprise IT, CObIT Foundation, IT Risk Management and ITIL Expert Track (OSA, SOA, PPO, RCV) + MALC. Along with these, we also provide Implementing IT Governance Using CObIT TM, ITIL & ISO 27001, and Certified in Risk & Information System Control. One of the most beneficial courses under IT service management is Control Objectives for Information and Related Technology also known as CObIT. The course help businesses determine and control various threats associated with information and technology. It is applicable to IT professionals like auditors, managers, leadership personnel, developers and quality inspectors. We are offering this course in Abu Dhabi and Chennai for USD 2500. People who wish to register for this course can fill in an application form available on our website."
The highly professional and experienced team of trainers working with Nbiz Infosol provides training in Health, Safety and Environment (HSE) courses as well. Various courses that come under this category are HSE Safety Training Oil & Gas Industry, HSE Management training, HSE Safety Training Construction & Civil Industries and Transport Safety training.
Speaking further, the senior executive commented, "We work with an aim to become the biggest information solution providing company in Middle East by the year 2030. Our team consists of intellectual consultants who provide quick, efficient and low cost solutions to entrepreneurs, which help them in decreasing their overall cost of production and increasing profits significantly."
Are you looking for business consultants in Dubai? You can follow this link http://www.nbizinfosol.com/ to get more details on Nbiz Infosol, a company that provides quality IT system consultancy solutions.
About Nbiz Infosol
Based in Abu Dhabi, Nbiz Infosol rules the roosts when it comes to providing top class information consulting, infrastructure management services and project management courses along with courses like (Unmapped) ethical hacking training, information technology infrastructure library and Nebosh safety training in Abu Dhabi. If you are looking for computer training courses in Dubai, you can contact Nbiz Infosol.
Contact Details
Abu Dhabi, UAE
Al Salam Street, Tourist Club
Mansoor Tower, 4th Floor,
# 402 Abu Dhabi, UAE
P.O Box: 33287
Tel : +971 26507983
Fax : +971 26507984
Email: info(at)nbizinfosol(dot)com
Chennai, India
1/6, 8th Cross Street
Indira Nagar, Adyar
Chennai - 600 020,
Tamilnadu, India
Tel : +914424421761
Tel (Toll Free Number): 0008001004217
Web: http://www.nbizinfosol.com/