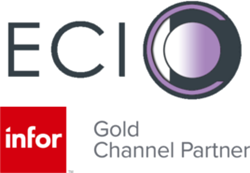 This latest milestone is a testament to our position as a leading manufacturing software provider
Vancouver, WA (PRWEB) April 25, 2016
Following a highly successful year as an Infor Channel Partner, ECI's hard work and proven competence have been recognized by Infor who has elevated ECI to the Gold Channel Partner level – the highest partnership status attainable.
This announcement is an outstanding achievement; ECI has been an Infor Channel Partner for less than 3 years. After being awarded Manufacturing Partner of the Year within the first 12 months and then receiving Silver Channel Partner status shortly thereafter, this latest channel promotion is a testament to ECI's ongoing commitment to providing innovative business consultation and effective technical solutions to Infor clients.
ECI attributes their success to implementing modern business software and matching that to efficient processes and highly-trained client personnel, all led by top-performing business software consultants supported by the Infor Channel program. Together, ECI and Infor have brought efficient software improvements and fast ROI to companies in need. ECI's unique brand of business software application consulting has also led to many long-lasting relationships with these organizations, who recognize the dedication to increasing operational excellence that will carry forward into the future.
With their ability to support businesses of almost all types and sizes with software implementations and other solutions, ECI plans to grow within the Infor channel with the same speed and commitment already shown – by helping ambitious companies become even more successful through modern software and methods.
"We're excited to gain this recognition from Infor, and to share it proudly with our team – their efforts have made ECI the remarkable business consultancy it is today. This latest milestone is a testament to our position as a leading manufacturing software provider, and Infor's endorsement supports our consistently strong sales across the sector. The combination of ECI's industry specific expertise and Infor's impressive software has resulted in solutions that are ideally suited to our clients, so we accept this Gold Channel Partner status with pride!"

Derik J. Aldridge - CEO, Founder, ECI / Eclipse Consulting, Inc.
ABOUT ECI
ECI is a business software consultancy founded in 1997 and headquartered in Vancouver WA. ECI employs a broad base of highly-skilled resources consulting primarily to manufacturing and related enterprise companies across the globe. ECI provides consulting and support services to over 400 companies the world over on more than 40 different business software solutions, with a specialty in Infor CloudSuite Industrial (SyteLine). ECI has built a solid reputation with clients as a trusted Industry Leader, bringing an experienced yet independent perspective to the table with a reliable and dedicated team of multiple MBA's, CPIM's, CMA's, PMP's, and Mensa members. ECI has the right tools and the best practices to create and execute well thought-out and redesigned business processes.
http://www.eclipsepc.com
ABOUT INFOR
Infor is fundamentally changing the way information is published and consumed in the enterprise, helping 70,000 customers in 194 countries improve operations, drive growth, and quickly adapt to changes in business demands. Infor offers deep industry-specific applications and suites, engineered for speed, and with an innovative user experience design that is simple, transparent, and elegant. Infor provides flexible deployment options that give customers a choice to run their businesses in the cloud, on-premises, or both.
http://www.infor.com