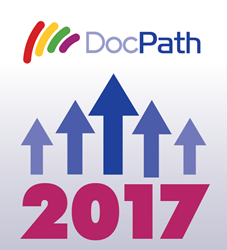 DocPath commits to continue offering its current and future clients significant enhancements to its business document software solutions
Suwanee, GA, (PRWEB) February 06, 2017
DocPath, a world-leading manufacturer and supplier of cutting-edge business document software with 25 years of experience, today announced that it will implement an important consolidation of its solution offering and launch new business document software products throughout 2017.
In view of the highly satisfactory annual results of 2016 with regard to company growth, profitability increase and expansion of its document software solutions portfolio, DocPath has started 2017 with an optimistic eye on the future. As such, the company has decided to consolidate its business document software solution offering into two main focus areas:

Output Dynamics, the area that will comprise all DocPath's business document design, management, generation and presentation products and solutions.
Spool Dynamics, the field that will cover all DocPath's business document print and distribution products.
Considering the success of recent projects, including installations of DocPath Houston Suite (a replacement software for Control-D) at an important French multinational distribution organization, and of DocPath ResourceBox, at one of the biggest domestic appliance manufacturers in the world, DocPath is now launching DocPath PrintSlim. This new Spool Dynamics business document product is designed to efficiently optimize and compress print files, which results in significantly reduced bandwith consumption and faster remote printing of large files. This new feature complements the functionalities of the DocPath TonerMIST document solution, an advanced toner saving solution aimed at reducing the substantial toner-related costs.
In addition, DocPath commits to continue offering its current and future clients significant enhancements to its business document software solutions, with the goal of ensuring total compatibility with current products and, simultaneously, paving the way for new technologies. This way, clients will be able to implement important improvements without affecting prior investments in DocPath software.
Main product features and improvements that will be added to DocPath's business document software products throughout 2017 include improved TransPromo functionality, in response to the high market demand. DocPath's new TransPromo features will make it even easier for organizations to add customized, targeted marketing and promotional messages to a variety of transactional documents, such as bank statements, invoices and bills. In other words, through their enhanced TransPromo functionality, DocPath Solutions will enable clients to use their transaction-related business documents to open up new business opportunities, increase customer loyalty and enhance their brand visibility, among other benefits.
DocPath also highlights that the company will continue meeting the needs of its international clients through its business document software Partner Program and by entering new markets. By expanding its Partner network, the company will be able to provide those clients with technical support in their own language, software that is better adapted to their specific requirements and more personalized services.
About DocPath
DocPath is a leading business document software manufacturer that provides its world-wide customers the technology that allows them to implement sophisticated Customer Communications Management and Document Output Management systems. Created in 1992, DocPath solutions are found in companies all over the world. Its international clients include prestigious banks and first class corporations, which are aided by DocPath solutions by simplifying the complicated and critical task involving the design and distribution of business and customer documents. DocPath maintains a strong commitment to R&D&i, an area that receives a good amount of its revenue, and in which lies the key to the company's success.
For more information, visit: http://www.docpath.com
DocPath is a registered trademark of DocPath Corp. All rights reserved. Other trademarks may be the property of their respective owners.