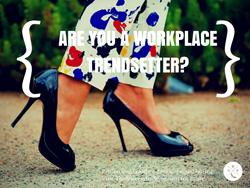 Once I started to focus on style and personal branding advice for working women, the blog really took off.
Los Angeles, CA (PRWEB) August 20, 2014
TheSuccessfulStyle.com, a leading fashion and beauty blog for working women, today announces they have surpassed 100,000 email subscribers. The popular blog averages more than 300k unique pageviews a month, over 130,000 followers on their top 3 social media channels including Twitter and Instagram, and is syndicated on other websites.
The Successful Style blog was founded by Heidi Nazarudin, a former high-flying investment banker and former CEO of a Nasdaq-listed company. The blog was launched one and half years ago, but really began to focus on branding to working women last year. "Once I started to focus on style and personal branding advice for working women, the blog really took off," she said.
The focus on corporate and business fashion has resonated with women, many of whom have spent years in the corporate world or professional business environment. A common issue is, like Nazarudin, they have a hard time finding stylish yet suitable clothes to wear to work and business events.
"I started the blog because I was really frustrated that there weren't sources for working women who want to look polished, poised and professional. While neon pink pumps and a tartan miniskirt might look great in a fashion magazine, your boss or clients aren't going to appreciate the look."
In addition to blogging, Nazarudin has partnered with industry giants and hosted many fashion events. She was the keynote speaker at Los Angeles Fashion Market Fall 2014. Most recently she hosted Britweek LA in collaboration with fashion brand Joseph UK. This October she will be the opening speaker at #FabDiLab LA, a fashion, beauty and lifestyle event for digital influencers.
Her posts, travel and style e-guides deliver exclusive fashion, beauty, business, and productivity tips.
About TheSuccessfulStyle.com
TheSuccessfulStyle.com is a fashion, beauty, and lifestyle blog targeted to the ambitious working woman. It was founded by former CEO and investment banker Heidi Nazarudin. In addition to blogging she is a Style Mentor and Executive Coach, focused on helping women navigate sartorial and gender-specific workplace dilemmas. She is also founder and president of Blogger Babes, a blogging association with more than a 1000 members, based primarily in Los Angeles. Heidi has been featured in BBC, Entrepreneur, Fast Company and other mainstream media outlets.
Heidi posts regularly in long form at TheSuccesfulStyle.com and in short form on Twitter @heidinazarudin. Her e-guides can be found at https://heidinazarudin.selz.com