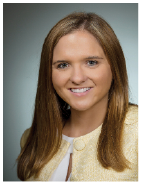 A caring counselor committed to her clients and this community.
Augusta, GA (PRWEB) June 03, 2014
Moses Law Group is proud to announce that associate attorney Courtney L. Bodie has been selected as one of ten of Augusta's most outstanding young professionals. The "Top 10 in 10" were selected through a competitive nomination process by the Augusta Metro Chamber of Commerce in partnership with Augusta magazine to recognize this year's most promising and rising stars. These young professionals, between the ages of 25 and 35, are expected to have more influence on the future of economic roles and lifestyles than many generations that have come before them.
"This honor and recognition is well-deserved by Courtney," said Tim Moses, founder and president of Moses Law Group, the law firm at which Bodie works. "She is a caring counselor committed to her clients and this community. Additionally, Courtney has a clear vision for her future and is already well underway to realizing her professional goals."
To further recognize these individuals, the Augusta Metro Chamber of Commerce will submit a nomination on their behalf to the 2014 Georgia Trend's 40 Under 40 competition. Recipients will also be honored at the Chamber's Member Economic Luncheon on June 12. The luncheon will include a presentation and recognition by Augusta Mayor Deke Copenhaver, a former Georgia Trend 40 Under 40 honoree.
About the company:
Moses Law Group is a veteran-owned law firm concentrating on intellectual property, business, estate planning, employment, and technology matters. Founded by attorney Timothy E. "Tim" Moses, who has more than 19 years of experience with such legal matters, Moses Law Group primarily serves clients in Augusta, Georgia, Aiken, South Carolina and surrounding areas. Moses, however, has handled matters throughout the United States and in more than 30 foreign countries. The mission of Moses Law Group is to help clients navigate the many legal issues that arise in the course of their business so that they may stay out of court and focused on growing their business. Visit the Moses Law Group website at http://www.moseslawgroup1.com/ for more information.