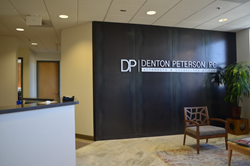 We're pleased to remodel and add this conference room to better serve our clients. Our experienced team is ready to help both small and large businesses with all aspects of law a business may need.
Mesa, AZ (PRWEB) September 14, 2016
Denton Peterson PC provides a full range of services to small and medium size Arizona businesses, including:

Creating and filing documents to establish business entities including corporations and limited liability companies
Drafting and negotiating all types of contracts, including sales agreements, employment, non-competition and non-disclosure agreements, residential and commercial real estate contracts and many more.
Creating the framework for a new franchise program, including the franchise disclosure document (FDD) and all accompanying documentation
Providing advice about tax, employment and liability issues
Representing clients in mediation or litigation
Negotiating deals
Overseeing real estate investments and sales
The experienced Arizona business lawyers at Denton Peterson provide legal representation for clients on both sides of these transactions. We have represented employers and employees, franchisors and franchisees, plaintiffs and defendants, creditors and debtors, sellers and buyers. We can certainly help you.
"We are dedicated to getting results for each client no matter the type of situation they are facing," Denton said. "We do our very best to understand our clients' objectives and concerns and to clearly explain to them their options and the strengths and weaknesses of their case. We want our clients to be able to make an informed decision that is best for them."
Denton Peterson, PC
1930 N Arboleda #200, Mesa, AZ 85213
(480) 325-9900
arizonabusinesslawyeraz.com
Practice areas at Denton Peterson in Mesa include:
Business and corporate law
Litigation and appellate practice
Negotiation and mediation
Employment law
Franchise law
Real estate law
Collections law
The legal team at Denton Peterson includes attorneys who have decades of experience in these areas of law. For example, Denton has more than 20 years of experience in practice, and he has developed expertise in helping businesses determine the right structure to meet their goals.
"I have many years working with small business clients, and I love helping them establish the right foundation for long-term success," Denton said.
The entire team at Denton Peterson is dedicated to working together to meet the goals of clients both large and small, no matter what industry they are in or what challenges they are facing.
Please check online reviews from our clients to verify the quality of service our firm has provided to them and has to offer to you. Clients can reach the Mesa office by calling (480) 325-9900 or by filling out the secure online form found at http://www.dentonpeterson.com.
Our renovated office is located at 1930 N. Arboleda, Suite 200, in Mesa. Clients can also connect with the business lawyers at the firm on social media channels like Facebook, LinkedIn and Twitter.