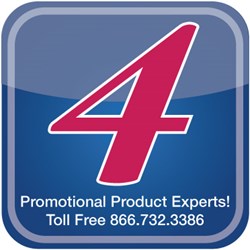 Essex, CT (PRWEB) December 16, 2013
A new year is upon us and that means it's time to start evaluating what is working for our business and what is not. The promotional products company 4AllPromos helps business with brand awareness by offering affordable and practical custom imprinted and promotional products for every kind of customer.
January is the start of new beginnings so why not start fresh with some new marketing and advertising ideas for your business or organization? 4AllPromos works with businesses, non-profits, schools and other organizations or event planning specialists to help make a memorable impression with customers through the use of custom imprinted promotional products such as tote bags, pens, t-shirts, mugs, candy and snacks, office supplies, toys, tech gifts and thousands of other affordable and practical products.
The branding experts at 4AllPromos have several tips for businesses looking to build their brand in the New Year. First, create consistent graphics. Whether you design a logo in house or hire a branding consultant it is important to phase out all graphics before introducing new text and graphics so the customer does not get confused. It might even be fun to enlist the help of customers to help develop a new look.
Secondly, stand out. Use marketing tools to remind customers about any unique perks or features the business or organization might have. Customers are always making comparisons to help shop for a better deal. Promotional products make great bonuses or giveaways to customers who are spending a lot or are new to the business. Those extra perks will get customers through the door over and over.
Finally, treat clients or customers well. Reward new or returning customers with special products. Spend a few extra dollars during the holiday months to give special gifts to unique customers. 4AllPromos has hundreds of affordable, creative and fun gift ideas for favorite customers or clients. Ornaments, chocolate, toys, office supplies and gadgets make great gifts. 4AllPromos also now offers a special engraving service to help make those holiday gifts extra special.
Visit 4AllPromos.com to learn more about how promotional products can help benefit business. 4AllPromos is one of the largest online suppliers of custom imprinted and promotional products including tote bags, drinkware, apparel, office supplies, party supplies and more. For more information or to speak with a product specialist call toll free at 1-866-732-3386.