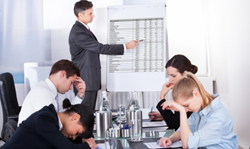 "With some learning, creativity and spunk, you can have a positive impact on the meetings you attend, instead of just surviving. You can start making a positive difference," he says. "In addition, you may potentially accelerate your career."
Stillwater, MN (PRWEB) August 08, 2014
Rick Conlow, renowned leadership expert and CEO/Co-Founder of WCW Partners, recently wrote a company blog post offering his expert advice on how employees can survive and actually thrive at their next dull and "pointless" meeting. In his latest post, "How to Survive Or Thrive in Boring Meetings," Conlow states what so many employees are thinking: "How many pointless and boring meetings do we have to go to? It's insufferable and wastes so much time and money."
Employees may try all kinds of things to get out of a dreaded meeting: faking an illness, sending someone in their place, lying and saying you have another meeting or skipping work on a day when meetings are scheduled. But, Conlow warns, there will always be another meeting. "What can you really do? Sit idly by and become part of the problem?" he asks. Conlow says there are productive alternatives that can be done before, during and after the meeting that can make a huge difference. Some of his suggestions include:

If you are the meeting leader, become better at facilitating meetings. Learn to deliver effective and lively meetings that achieve real results (start by reading his other blog post, "The Top Ten Meeting Mistakes and How to Avoid Them").
As a meeting participant, offer suggestions on ways to help liven things up and help the team accomplish something of value.
Before the meeting, volunteer to help with designing an agenda that is sent out ahead of time
During the meeting, consider some low-key group dynamic techniques such as: asking a question about the current meeting content, breaking the team into two smaller groups to brainstorm on a key topic, sharing a clean but funny joke at the beginning or end of the meetings you attend so at least everyone has a laugh, etc.
After the meeting, get together with the organizer and offer suggestions on improving the meeting, ask the organizer if you can take a greater role in meeting facilitation, recommend the leader send a follow-up email thanking people for their help and reminding them of key points discussed, etc.
Conlow says that with some effort, improvements to the typical "boring" meetings can greatly benefit everyone. "With some learning, creativity and spunk, you can have a positive impact on the meetings you attend, instead of just surviving. You can start making a positive difference," he says. "In addition, you may potentially accelerate your career."
To read the full blog post on how to survive and thrive at boring meetings, visit http://blog.wcwpartners.com/survive-boring-meetings/.
About the Author, Rick Conlow
Rick Conlow is the CEO/Co-Founder of WCW Partners, a global management consulting and training firm. Rick has helped organizations increase sales 218%, improve repeat-and-referral business by 20%, increase customer retention to 99%, reduce complaints by 60% and achieve 34 quality awards.
About WCW Partners
Co-Founders Rick Conlow/CEO and Doug Watsabaugh/COO of WCW Partners have more than 50 years of combined business, training and leadership experience. Their company partners with organizations to increase sales and customer retention, while simultaneously improving employee loyalty, engagement, and productivity. Clients include 3M, Meijer, Rite Aid, Canadian Linen, AmeriPride, Honeywell, Entergy, Nash Finch, Northern Power, Pepsi and others.
For more information, contact 888-313-0514 or visit http://www.wcwpartners.com.
# # #