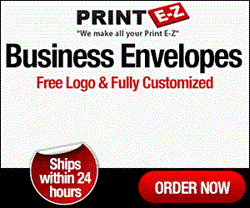 Business Envelopes and Standard #10 Envelopes At www.PrintEZ.com with great offer of Free Shipping!
Monroe, NY (PRWEB) October 28, 2013
Print EZ, a business envelope retailer that can be accessed online at Print EZ, is now offering free shipping on business envelopes. PrintEZ.com is a company that understands the requirements of different businesses. They know that people are often caught in a dilemma of whether to go for in-house printing or outsourcing. It is easy to print through a computer a printer can be set up to print addresses right on to the stack of the desired size of business envelope placed on the printer tray. This is fine if there are only a few envelopes. However, printing larger number in-house is not cost effective. Printing in bulk on an in-house printer would mean changing the ink cartridge frequently. Outsourcing envelope printing is cheaper since economies of scale can be utilized to bring costs down. PrintEZ.com has now helped to bring the costs down even further by waiving the shipping charges.
Most of the business correspondence comprises of sending receipts, invoices, verifications and bills. A professionally designed preprinted envelope with a company logo ensures that every time the business stationary is recognized.
In addition, PrintEZ.com also offers window envelopes placed at the bottom left of the envelope where checks and other computer generated documents like invoices have the name and address of the payee. Using a business sized envelope with a window eliminates the need of writing or printing the addressee's name and address. For clients that need to send out large numbers of checks, PrintEZ offers computer checks compatible with the specified printer. So it can easily print the checks using accounting software such as QuickBooks. The company also has free matching envelopes with custom checks on offer.
The standard and most commonly used size is 4.125 inches wide and 9.5 inches long. This is called the number 10 envelope. This busines size #10 envelope is perfect for holding a standard 8.5 inch by 11 inch paper folded in thirds or a document measuring 9.25 inches by 3.875 inches. In addition, PrintEZ.com offers all standard sizes for business as well as personal use.
Buying office supplies online saves time. It also saves businesses the trouble of looking for a local print shop and checking what size will suit them the most. There is also the issue of proofing the material and commuting to the printers each time you need to check something. The PrintEZ.com website has all information that clients need regarding personal and business envelopes. Each size, along with the size of inserts it will hold is available on our website.
Printing cost becomes increasingly affordable with volume. Add to that free shipping and fast turnaround from PrintEZ.com and you have a win-win situation. Besides standard business size #10 envelope clients may also request a custom quote for a variety of envelope styles, designs and printing options including pre-printed business reply envelopes for their direct mail promotional campaigns.
Without prejudice, there are instances where print companies have tried to recover their discounted prices through high shipping charges. "At PrintEZ.com you can be sure to encounter a completely transparent policy", Morris Rose, CEO of PrintEZ.com says. There are no hidden costs under the guise of 'shipping and handling' charges. When ordering requirement for standard business size #10 envelope or other customized envelopes, be sure that it will cost exactly what is seen on the computer screen, nothing less, nothing more.
Get more information about how Print EZ offers and new launches on Business Envelopes at or call the company at 1-888-246-0635.
To read more about Business Forms, click here: http://www.printez.com/business-forms.html and get regular updates of new offers and deals here.
Print EZ
4 N Main St.
Monroe, NY 10950
(845) 782-5832