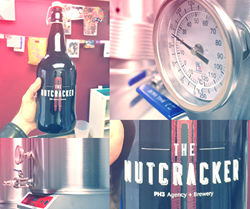 Orlando, Florida (PRWEB) December 24, 2014
Just in time for the holiday season, PH3 Agency + Brewery's creative team has completed their work on a set of 6 original pieces of art for Romotovski, the brand name of the small advertising agency's own hand-crafted brew. Each custom print represents one year of brewing, starting in 2009 when PH3 founder Rick Romot was given a second-hand homebrew kit by a friend. That year the first Romotovski brew was born, and at Christmas, the agency's clients enjoyed their first taste of homebrew (each received a bottle of Romotovski Porter 2009). Brewing became such a part of the agency culture that in 2013, PH3 rebranded itself as both an agency and non-commercial "brewery."
In mid-2014 Rick began to purchase commercial brewing equipment that would allow him and his team to brew larger batches. Beyond brewing for family and friends to enjoy year-round, PH3's advertising clients have begun to anticipate a special delivery of a new custom brew each year around the holidays. This year, it's a smooth, nutty hazelnut brown ale called the Nutcracker. Delivered in a large, dark grolsh-style bottle with a custom-designed label, it rivals the look of a fine wine.
Part of the advertising agency's long-term vision is to launch a commercial nano-brewery where small, custom batches are created and branded for individual organizations, residential communities or even families, weaving in each group's unique history, culture and tastes to craft a one-of-a-kind brew.
About PH3 Agency + Brewery
PH3 is a tight-knit advertising team that delivers a healthy balance of strategic and creative branding, print, digital, search and social marketing communications for clients across multiple industries, including hospitality, arts & entertainment, medical, residential development, commercial development, consumer products and services, and non-profit industries. The agency is based in Orlando, Florida.