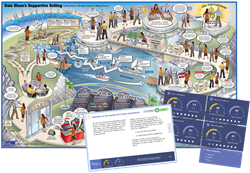 We have created a truly special experience that will inspire new behaviors and set your sales organization on a path to achieve maximum growth.
Tampa, FL (PRWEB) November 11, 2015
There's a new business sales training experience that could revolutionize the way sales professionals master the profitable concepts and skills critical to sales success.
Supportive Selling is an innovative, classroom-based training experience that uses iPad-based sales simulation technology and interactive training visuals to equip business professionals with the skills and concepts that take success to whole new heights.
This revolutionary sales training solution, created by Tampa-based Blueline Simulations, combines the power of a Blueline Blueprint™ learning visual with Dr. Dale Olsen's Supportive Selling Skills model and the latest tablet technology to build selling skills faster than ever thought possible.
"Interactive training experiences speed mastery of critical selling concepts," says Blueline Managing Partner David Milliken. "By combining a Blueline Blueprint™ sales learning visual with the latest in iPad-based sales simulation technology, we've created a discovery training experience that inspires new sales behaviors and sets sales organizations on a path to achieve maximum growth."
The Supportive Selling Blueprint™ is a table-sized graphic that quickly engages sales professionals' multiple learning styles by inviting them to explore relevant visual metaphors, dig into data and trade personal selling experiences to challenge each other's assumptions. It also serves as a launch point for individual activities and team challenges where learners compete by responding to a series of situational selling dilemmas that follow a realistic storyline. This iPad-based sales training experience adds fun and excitement by incorporating chance events and tracking team scores through a leaderboard. The training design ensures a strong connection to the sales professionals' jobs through practical application exercises and real-world action planning.
The rich dialogue and interactive nature of the sales training experience generates deep awareness of Dr. Olsen's Supportive Selling Skills model, which builds on the research done by Neil Rackham (SPIN Selling) and others by infusing proven sales techniques learned from decades of research on influencing others.
Just-in-time performance support is available 24/7/365 through an optional PeopleSIM™ Supportive Selling Skills simulation and elearning module. This gives sales professionals the opportunity to hone their selling skills any time, anywhere via sales simulation technology perfected through projects with the U.S. military – technology that combines voice recognition and a gaming engine that distributes hundreds of video vignettes so sales professionals can hone their new sales skills in unique situations for hours.
Tampa-based Blueline Simulations, LLC strives to think and act like David in a world of Goliaths. With a focus on solving business challenges through a mix of immersive learning experiences and powerful communications technologies, Blueline's talented professionals have been distinguishing the company through creativity, personal investment, flexibility and accountability for more than a decade.