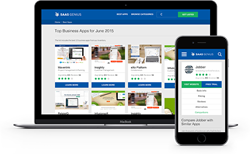 We believe that SaasGenius.com is a part of this fast growing trend for enterprises. Even employees in large companies now expect a more customer-like online research and buying experience.
Warsaw, Poland (PRWEB) May 22, 2016
Twelve months ago, Tom Gorski was shopping around for the perfect CRM software. Frustrated with the lack of reputable reviews of software as a service (SaaS) products, he decided to build his own platform to solve this problem.
The beta version of SaasGenius.com is launching next week with 12 review categories. For each category, the team selected front running tools beta users are encouraged to review. These include leading social media monitoring app Brand24. Only SaasGenius beta users will get an extended free trial + 50% off any subscription plan for the first 3 months of Brand24.
Tom is the first to admit that the product isn't yet in full form. "The next three or four months are all about us getting more data," he says. "We're going to optimize our site, we're going to see how people are using it, and we're going to test if there is a way of monetizing it."
While there are still some professionals out there using Excel (shudder) as poor man's CRM, most modern movers and shakers are using some sort of software as a service (SaaS) to manage their business relationships. In the past, entrepreneurs looking for software had to rely on word of mouth from others they trusted about what they used.
Any review based startup that relies on users for content has some hurdles ahead. When asked about the strategy of being a 'Yelp for business software,' Tom replied, "We all now rely heavily on websites like Yelp and TripAdvisor in our personal lives; these sites feature trusted reviews to help us make quick, easy purchase decisions. We believe that SaasGenius is a part of this fast growing trend for enterprises. Even employees in large companies now expect a more customer-like online research and buying experience."