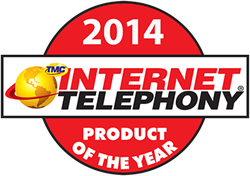 Scottsdale, AZ (PRWEB) February 06, 2014
Nextiva, an industry-leading provider of cloud-based business phone services, announced today that TMC, an integrated media company and publisher of Internet Telephony magazine, has named Nextiva Office "Product of the Year" for the sixth year in a row.
Nextiva Office is a cloud-based phone service that offers businesses nationwide unlimited local and long-distance calling for a flat monthly rate. Users have access to dozens of features including customizable auto attendant, call forwarding, voicemail to email and instant messaging—all of which are scalable to support business growth. Nextiva is also introducing a mobile and desktop app that extends the functionality of the Office plans while enabling voice, video and instant message communications through their mobile devices.
"It gives me great pleasure to recognize Nextiva with a 2014 Product of the Year Award for its commitment to excellence and innovation," said Rich Tehrani, TMC's CEO. "In the opinion of our distinguished judges, Nextiva Office has proven to be among the best communications and technology solutions on the market in 2014. I look forward to continued innovation from Nextiva."
"We are honored that Internet Telephony has recognized Nextiva Office as an award winner for yet another year," says Yaniv Masjedi, Vice President of Customer Success at Nextiva. "We see business communication as continuously expanding to support mobile and remote workforces, and we are committed to an innovative product roadmap that makes collaboration easier than ever for our customers."
All winners of the 2014 "Product of the Year" award will be published in the January/February 2014 issue of Internet Telephony and can be found online at http://www.itmag.com.
For more information about Nextiva Office and their complete unified communication solutions, please visit http://www.nextiva.com.
ABOUT NEXTIVA
Headquartered in Scottsdale, Arizona, Nextiva (@nextiva) is a privately held member of the Unitedweb family of companies. Founded on the principle of Amazing Service™, Nextiva is one of the country's leading providers of cloud-based communication services including business VoIP, mobility services as well as call center solutions. Nextiva has won more than 30 Independent Technology & Telephony Awards, including the "Product of the Year Award" by Internet Telephony magazine for five years running and the Red Herring Top 100, North America Award. Nextiva delivers "Fortune 500" business communication service to thousands of small-to-midsize companies across the United States. For more information call 800-799-0600 or visit http://www.nextiva.com.
ABOUT INTERNET TELEPHONY MAGAZINE
Internet Telephony has been the IP Communications Authority since 1998. Beginning with the first issue in February of 1998, Internet Telephony magazine has been providing unbiased views of the complicated converged communications space.