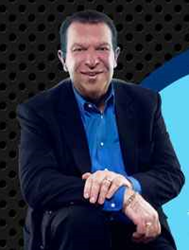 I can't make you successful, but I can show you how to find the success you were meant to have!
Denver, CO (PRWEB) August 20, 2013
"I can't make you successful, but I can show you how to find the success you were meant to have," reveals Gary Barnes, Global Premier Business, Money, and Relationship Coach referred to as the "Traction Coach". In the feature "Practical Advice to Run Your Own Profitable Business" by Adelia Cellini Linecker for Investor's Business Daily, Barnes shares the three principal adages to a successful business: 1) Be Patient; 2) Be Flexible, and 3) Start Small. His longtime client, Susan Wagers of Susan Wagers International, known as "America's Breakthrough Strategist," was also quoted in the article supporting Barnes' three fundamental basics.
Expanding on these three primary business foundations, in the article, Barnes shares how booming companies such as the popular social applications Facebook grew immensely over the first three months, yet traditional business do not usually achieve that growth so rapidly. In direct conflict, Barnes discusses that new businesses need patience as it is a proven fact that good business grows over time as people come to know you, trust you, and hear about you. Supporting the need for patience, Susan Wagers, stated that there are no 'drive-thru breakthroughs.' Instead, she discusses the need to work out challenges completely to forge ahead in business.
Patience has worked well for his business as Barnes will be holding his 21st "Maximize Your Business Now 'LIVE'" Boot Camp for entrepreneurs, coaches, trainers, and consultants in Denver, CO., September 6th and 7th. During his event, Barnes displays his second foundation of flexibility. Since Barnes covers a wealth of content over the two-day business boot camp, his flexibility in delivering high-quality content in an experiential style allows him to cover topics including:

Create a personal and business vision — and learn exactly how to catapult to the next level of success.
Become a master networker using the "three magic words" that create immediate interest in your business.
Develop your personal time management strategy that will make you more money faster and give you more free time.
Create a marketing plan that will elevate and separate your brand so you can finally attract your ideal clients!
Susan Wagers, "America's Breakthrough Strategist," has benefited greatly from Barnes' coaching and boot camps over the last several years. She contributes much of her success in coaching entrepreneurs to break the $100k financial ceiling to her mentor Gary Barnes. Currently, due largely to encouragement by Barnes, Susan is taking her business to the next level by writing business manuscript "Stepping Stones of POWER: Your Blueprint to Succeed in Any Business" to be showcased during a book signing party on Friday night of Barnes' next boot camp.
Gary Barnes, recipient of multiple business and civic awards, has turned heads with more than his clients. James Malinchak, Business Entrepreneur, Big Money Speaker, and featured Millionaire in ABC's Hit TV Show 'Secret Millionaire,' states, "If you are looking to grow your business, grow your sales, and grow yourself while reducing your overhead, then Gary Barnes is your ticket."
Click here to find out more about attending Gary Barnes "Maximize Your Business Now 'LIVE'" Boot Camp Sept 6 & 7, 2013, Denver, CO.
To interview or book Gary Barnes or Susan Wagers for radio, television, or print interviews or to bring them in for your next conference, meeting, or convention, or to order Susan Wagers new book, contact Andrea Adams-Miller, CEO of The RED Carpet Connection Publishing, Publicity, and Talent Agency at http://www.TheREDCarpetConnection.com.
About Gary Barnes
Gary Barnes, President of Barnes Consulting Group and the Founder of MaxLife International, is a global premier business, money, and relationship executive coach. Also known as "The Traction Coach," he shows clients how to gain a firm foot hold to accelerate their business decisions and actions to maximize their business towards wealth and freedom. He is the author of Spend & Grow Rich: 7 Secrets to Unlocking the Goldmine of Your Checkbook, How a Beaver Saved My Life: Real Life Story of Adversity to Triumph, and the e-book manual Financial Magic: The Common Sense Way. He is presenting his 21st Maximize Your Business Now Boot Camp Sept 6 & 7, 2013. It is the ultimate boot camp revealing the secrets for business and sales success. http://www.GaryBarnesInternational.com
About Susan Wagers
Susan Wagers, CEO of Susan Wagers International Ltd. and Founder of Mountain View Peak Performance Academy, is known as the "America's Breakthrough Strategist." Wagers, entrepreneur, educator, speaker, and author, inspires everyone she meets with her message. Utilizing her extensive corporate and financial successes, she overcame the stumbling blocks of a painful personal journey. Well qualified, she shows entrepreneurs the practical tools to break financial limitations. She identifies the stepping stones that propel entrepreneurs forward to achieve personal or professional breakthroughs. Wagers is the author of "Stepping Stones of POWER: Your Blueprint to Succeed in Any Business." http://www.SusanWagers.com