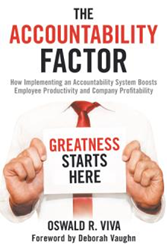 ACWORTH, Ga. (PRWEB) July 23, 2019
Oswald R. Viva, a consultant dedicated to helping small- and mid-size businesses, believes that without personal accountability, there is no organizational accountability, and without that, businesses and organizations fail to reach their ultimate potential. In his latest book titled "The Accountability Factor" (published by Archway Publishing), Viva explores how to establish accountability within the ranks of an organization.
The book is intended to help organizations, particularly business enterprises, implement accountability as a tool to improve performance. The insights and teachings discussed can be applied personally, professionally, politically, and in social and news media, schools, and even homes.
In relation to a life journey, the book takes readers from the parental role in raising a child to being accountable right to the boardroom. It provides thought-provoking and perceptive methods to drive companies toward creating an environment where accountability is encouraged and, in certain cases, even demanded. To purchase and to know more about the book, interested parties may visit https://www.archwaypublishing.com/Bookstore/BookDetail.aspx?Book=787842.
When asked what he wants readers to take away from the book, Viva says, "The ability to change personal behavior into what is really a cultural value that requires all team members to assume responsibility for their own and each other's actions and to focus on the actions required at the individual and team level to improve everyone's performance and therefore increase the performance of the organization."
Ultimately, Viva aims to transform the way employees think about accountability and improve business culture and performance with the lessons in "The Accountability Factor."
"The Accountability Factor"
By Oswald R. Viva
Hardcover | 6x9 in | 154 pages | ISBN 9781480877931
Softcover | 6x9 in | 154 pages | ISBN 9781480877900
E-Book | 154 pages | ISBN 9781480877917
Available at Amazon and Barnes & Noble
About the Author
Oswald R. Viva is the founder and president of V&A Management, LLC, a consulting company dedicated to helping small- and mid-size businesses. He has been an executive at large and small companies and spent 13 years as a CEO and executive coach. He has participated in eight startups as a principal, founder or consultant, and owned one of the most successful franchises of The Alternative Board. He is the author of several books and e-books. A native of Argentina, he is married and lives in Acworth, Georgia. He has four children and 12 grandchildren.