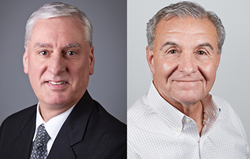 Getting the right assistance, evaluating the options and making the move as planned as possible is the key to success. I saw it with my own parents and now I'm looking forward to helping others. We are proud to be members of the Caring Transitions team. - John Greene
PLYMOUTH , Mass. (PRWEB) January 17, 2019
Friends and business partners John Greene and John Rossi are pleased to announce the launch of their new senior-focused relocation and estate services company – Caring Transitions of South Shore Massachusetts.
Caring Transitions' specially-trained professionals handle decluttering, organizing, packing, moving, resettling, in-person estate sales, and online auctions, liquidations and preparing homes for market. While the services are perfect for seniors, they can be customized for any situation. Caring Transitions of South Shore Massachusetts serves Plymouth, Norwell, Plympton, Halifax, Hanover, Duxbury, Marshfield, Carver, Middleboro, Kingston, East Bridgewater, Pembroke and the surrounding areas.
Greene graduated from Bentley In 1981 with a Bachelor's in Accountancy and a Bachelor's in Computer Information Systems. After graduation, Greene spent his career in corporate America, including eight years at Keane and 20 years at Fidelity Investments. Greene left Fidelity to start an online training business to teach college grads to succeed in the workforce, before being recruited as the COO of an IT consulting company. The company doubled in size under Greene's leadership and was sold to a large IT company.
In the meantime, Greene's father (86) was suffering from Dementia and his mother (93) was starting to feel the pressure and burden of caring for him. Greene started to take care of them – first by helping them run errands and go shopping and then by splitting full-time care of them with his sister. After an operation didn't go well, it was apparent that Greene's parents would be safer in assisted living. Using the techniques from Caring Transitions, Greene and his family moved their parents in, complete with their own bed and furniture. They move went well and now they are safe and happily living in the facility.
"When I left corporate America, I realized I had an opportunity to help people and do something more rewarding with my life. When I read an article about Caring Transitions, I told John (Rossi) about the business and immediately agreed that this was the business we were looking for and we signed up," Greene said. "Getting the right assistance, evaluating the options and making the move as planned as possible is the key to success. I saw it with my own parents and now I'm looking forward to helping others. We are proud to be members of the Caring Transitions team."
Caring Transitions' services are perfect for managing the many aspects of a senior move or assisting with the process of downsizing to provide a safer living situation as well as for busy families and people clearing out the home of a loved one who has moved into assisted care or has passed. All of Caring Transitions' services are customizable, so clients choose the solution that best fits their needs – whether that means managing the entire move and estate-clearing, just getting someone resettled into their new place, or anything in between.
Greene and Rossi are long-time friends and colleagues and are looking forward to their future as business partners. John Rossi has a varied background including military service, psychiatric nursing, and IT. His most recent role, although in IT, was heavily focused on maximizing the potential of the people around him – a skill he's excited to use with Caring Transitions.
"Now I have the opportunity to directly help families in my local community to cope with tough times. It seems like everyone we talk to has their own story about how stressful it can be to help seniors and their families deal with life changes. As a senior myself, it's personal to me. Each of us will face a major change at some point. Why go it alone? A proven process and caring professionals can make a huge difference in peoples' lives," Rossi said.
Caring Transitions of South Shore Massachusetts is bonded, insured and their W2 employees have been background checked. For additional information about Caring Transitions of South Shore Massachusetts, call (508)209-5243, email JGreene(at)CaringTransitions(dot)com or JRossi(at)CaringTransitions(dot)com, or visit http://www.CaringTransitionsSSMA.com.