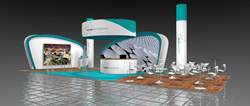 Birmingham's growing international profile helped to increase levels of foreign direct investment into the city by over 50% last year.
(PRWEB UK) 11 March 2014
Birmingham's delegation at this week's international real estate show MIPIM has been boosted by a record number of partners.
Exhibiting as 'Greater Birmingham' for the first time, the city is teaming up with a total of 27 regional companies and organisations and is also joining forces with Invest Black County and Solihull Metropolitan Borough Council, widening the scope of the opportunities to be showcased at the event.
The world's largest real estate exhibition, MIPIM takes place in Cannes, France on 11-14 March. It hosts more than 20,000 participants from 80 countries, ranging from global investors to business leaders and journalists. Virtually all major European cities attend the event to highlight their latest developments to potential funders.
Organised by inward investment programme Business Birmingham, the region's presence this year will focus on bold developments, which provide opportunities for capital investment. These include the international launch of the city's Curzon HS2 Masterplan – a new, vibrant district in the centre of Birmingham – and UK Central, one of the biggest investment opportunities in the UK at the heart of the country's transport networks.
Greater Birmingham will also showcase flagship sites such as its economic zones – led by Birmingham city centre's Enterprise Zone – which are offering investors financial benefits, business support, planning flexibility and 1.8 million sq m of new floorspace. Discussions will also surround the 17.4 hectare site at the former Selly Oak Hospital, in the south west of the city, and the major residential mixed use development scheme at Icknield Port Loop.
Sir Albert Bore, Leader of Birmingham City Council, said:
"Greater Birmingham will be capitalising on its growing reputation as a European hub for enterprise and investment at this year's MIPIM. It has one of the most ambitious visions for urban development in Europe – from its plans for international connectivity to the range of unique infrastructure projects on the horizon.
"The region is bucking the trend in attracting more overseas investment, despite a tough economic climate, because we offer businesses greater support and a better welcome than any other UK location. MIPIM provides a platform for us to engage with the organisations looking to invest in our new schemes and join in our economic growth."
Councillor Ian Courts, Cabinet Member for Economic Development & Regeneration, added:
"I am delighted that Solihull is part of the Greater Birmingham delegation attending MIPIM. We have an outstanding track record of attracting business and investment to the region and the UK, with Tata, Genting and Rolls Royce all investing at the moment. The fantastic new opportunities offered by UK Central that we will be presenting to MIPIM's global audience of decision makers can only add to the region's success in the future."
Greater Birmingham will host nine events at MIPIM, including two on the prestigious main conference programme focusing on HS2 and the Knowledge Economy in the UK's Cities.
Neil Rami, Chief Executive of Marketing Birmingham, which operates Business Birmingham, said:
"High profile events like MIPIM are crucial to showcasing the city's confidence as a business destination to hundreds of potential investors.
"Birmingham's growing international profile helped to increase levels of foreign direct investment into the city by over 50% last year, and is directly contributing to its economic success. To maintain this track record, the city needs to attend the global events that our competitors will have a presence at – or miss a valuable opportunity to meet new investors."
Images of Greater Birmingham's MIPIM 2014 stand have just been revealed. The stand has been designed to be practical for use during the events programme, as well as open and inviting to passing delegates. The stand has been further developed for this year's event to encourage more dwell time for investors with an increased number of partners.
Among Greater Birmingham's MIPIM 2014 partners are Arena Central, Argent, Birmingham Airport, Bruntwood, Calthorpe Estates, GVA, Jaguar Land Rover, Midland Heart, NIKAL and Thomas Vale Construction.