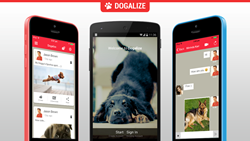 The features involved, including the video call, the free vet call, and the social networking capability is exactly why Dogalize needs to be a part of every dog-owners' daily life
(PRWEB) April 16, 2014
With the introduction of Dogalize (http://www.dogalize.com,) Business Competence is proud to provide dog owners with a social network which will allow them to interconnect with one another via the internet. Dogalize allows dog owners from all over the world to communicate with eachother, post photos/videos of their pets, and allows vacationers to find the best parks for dogs while on vacation.
Dogalize was featured in an article posted in The Guardian on April 1st, and writer Chris Michael described it as being "a bit more like Foursquare for dogs, in that it allows you to "geolocalize" other dogs, chat with owners, and find dog-friendly places."
Utilizing geolocation, dog owners will find many benefits to the Dogalize app, to include the capability of communicating with friends, meeting other dog owners, making calls/videocalls, and locating dog-friendly places such as parks, kennels, restaurants, and pet shops.
In addition, people can also use the Dogalize app to make a call or video call to a local veterinarian, in the case that their pets have suddenly become sick or unhealthy and urgent advice is needed. With the capability of mobile telemedicine, Dogalize seeks to establish itself as a tool for a first diagnosis for pet health problems. If a pet's health problem is too complex to treat via mobile device/computer, veterinarians will be able to recommend local specialists.The first to proudly accomplish this experiment of veterinary telemedicine is Business Competence, a company characterized by an extremely young team and active in the field of consultancy and the development of technological solutions.
The app can also be helpful for people who are seeking to acquire a canine companion, since there is a special section of the app which is dedicated to showing pictures and videos of kennels which have a multitude of dogs awaiting to be adopted by loving owners.
"The features involved, including the video call, the free vet call, and the social networking capability is exactly why Dogalize needs to be a part of every dog-owners' daily life," says Sara Colnago, CEO of Business Competence. "Dogs are a part of the family, and we want people to develop a community that will allow dog owners and their dogs to show love and support for one another."
About Dogalize
The Dogalize app is compatible with the iOS 5.1 or later, is compatible with the iPhone, iPad, and iPod Touch. It is also available for the Android 3.1 or later versions, size 22MB.
The Dogalize App is available for freein the iTunes app store at:
https://itunes.apple.com/us/app/dogalize/id836456650?mt=8
The Dogalize App is available for free in the Google Play store at:
https://play.google.com/store/apps/details?id=com.dogalize
About Business Competence
Business Competence was founded in 2007 with the goal of developing technology solutions for clients worldwide. The CEO, Sara Colnago, has recently been awarded as the "2013 Business Woman" at the Italian Smau contest. The company offers simplified technologies and process solutions that increase productivity and facilitate the achievement objectives/targets, thanks to their expertise in providing services such as ICT consulting and software development. Business Competence invests the profit in new solutions and new products and the market has rewarded them in return.
Business Competence believes in actions rather than in words.
https://www.youtube.com/watch?v=ZXHnL6arBtw
Contact Business Competence:
Sara Colnago, CEO
info@businesscompetence.it
http://www.businesscompetence.it/
http://www.dogalize.com
Italy