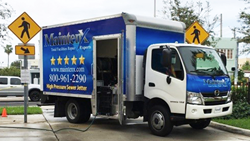 A faucet that leaks at one drop per second can waste more than 3,000 gallons of water per year.
TAMPA, Fla. (PRWEB) March 29, 2019
MaintenX helps customers with a comprehensive range of maintenance needs, but plumbing occupies a special significance for team members. That's because MaintenX was founded by a third-generation plumber more than 40 years ago. MaintenX always embraces its plumbing history, but especially does so during Fix A Leak Week, celebrated during the third week in March.
"From fixing small leaks to new plumbing installation, our team members can do it all," said Bill Schaphorst, MaintenX's VP of Business Development. "During Fix a Leak Week we're reminded of how important properly functioning plumbing is for business continuity and cost savings."
Though properly functioning plumbing is easy to ignore, plumbing leaks, breaks or clogs can be a major hassle for facility managers. Hidden plumbing issues like leaky toilets or worn faucet washers can produce small leaks that, over time, create significant water costs. For example, a faucet that leaks at one drop per second can waste more than 3,000 gallons of water per year.
Checking plumbing thoroughly can be a daunting task. That's why facility managers from coast to coast call on the superior technicians at MaintenX. The MaintenX Plumbing Division can help identify, develop and run projects, and has experience with the unique considerations associated with both retail and commercial properties.
Whether a building needs small plumbing repairs or a total renovation, MaintenX technicians are ready and able to help. To learn more about MaintenX, visit http://www.maintenx.com.
About MaintenX International:
MaintenX International is a fully licensed, facilities repair company. As one of the largest national self-performing facility maintenance and repair companies in the U.S., MaintenX has created a wide network of knowledgeable and professional technicians throughout the country. With their team of well-trained technicians, MaintenX self-performs and manages facility maintenance for their clients. In the event there is not a MaintenX technician in an area, the company has established a network of preferred vendor partners throughout the country for continued superior service for their clients. For more than 40 years, MaintenX has been expertly serving multi-location retail stores, restaurant chains and Fortune 500 companies nationwide.