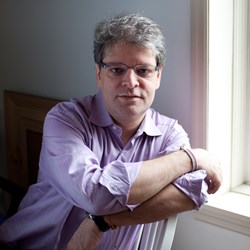 Aldo Civico is one of the most innovative leaders in the conflict resolution field.
- Sen. George Mitchell
New York, NY (PRWEB) September 05, 2013
Just back from training civic leaders from Syria in negotiation and mediation, the founder and president of Accordo Consulting Aldo Civico, announced today a new program "Let's Talk! What Executives Can Learn from Mediators!" The program will inspire executives to maximize their performance and that of their employees by modeling top mediators.
Top mediator George Mitchell, responsible for the Good Friday Agreement in Northern Ireland and who most recently was the Special Envoy of President Barack Obama to the Middle East, defined Aldo Civico as "one of the most innovative leaders in the conflict resolution field" and added that "what sets Aldo apart is his extraordinary capacity to listen attentively and with great empathy… His stories are compelling and insightful."
"We live in complex and uncertain times. To increase their bottom-line profitability, managers need to turn into visionary leaders, who can inspire and effectively engage their employees and unlock their potential," said Aldo Civico, who in addition to working in conflict areas, has extensive experience in the private sector where for example, using his mediation skills, he successfully helped to set up one of the top private equity funds in Colombia.
In order to achieve peak performance, executives can learn much from top mediators. Mediators intervene in crisis and skillfully turn around intractable conflicts because they know how to listen and what to listen for, how to build trust, promote dialogue, pursue an agenda and get results. Interestingly, The Harvard Business Review recently published a study that highlighted how executives today reach peak performance when they engage employees through conversations rather than simply issuing orders.
In his new program, Aldo Civico draws on his 20-plus years of experience in the field of conflict resolution. Whether working with anti-mafia leaders, or facilitating ceasefire talks with a guerrilla group, or coaching former combatants to reinvent their life, he has observed that change and progress happens when individuals and groups change the story they tell themselves, overcome fears and self-doubt, interrupt disempowering patterns, and find new strategies to meet their human needs. In addition to working in conflict areas, Aldo Civico now coaches executives, artists and celebrities to leverage their strengths, produce positive shifts in their mental models, overcome self-doubt and thus elevate performance, have clarity of purpose and increase professional and personal satisfaction.
Aldo Civico offers the program through Premiere, a top international speakers bureau. "Conflict is natural and every time we are able to reframe a conflict or a moment of crisis, into an opportunity, we get onto a path that will get us to success," said Civico.
For more information, see http://www.accordoconsulting.com.
ACCORDO CONSULTING is a leadership and conflict resolution consulting firm which partners with its clients to elevate their performance by helping them to resolve conflict, increase their capacity for effective communication, and develop their emotional intelligence skills. We integrate 20 plus years of experience with the most advanced and cutting-edge practices and tools in the field.