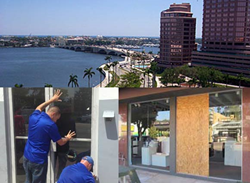 Unlike our competitors, we are strongly focused on our business and commercial glass repair and replacement customers
West Palm Beach, FL (PRWEB) July 22, 2014
Express Glass and Board Up Services, one of West Palm Beach's top commercial and business glass repair services, is proud to announce plans to upgrade awareness in the West Palm Beach business community of its 24/7 emergency glass repair services. Many glass companies focus primarily on residential customers, but Express Glass is one of the few glass repair services that strongly caters to the business community. Unfortunately, many business owners are not aware of this fact and choose second-tier companies for their glass repair needs.
"Unlike our competitors, we are strongly focused on our business and commercial glass repair and replacement customers," explained Yani Santos, general manager of Express Glass. "Yet many West Palm Beach businesses do not realize this fact, and settle for second-tier glass repair companies, some of which do not even offer 24/7 emergency service."
Consequently the company has launched an ambitious Internet advertising and public relations campaign to raise awareness of its services in West Palm Beach, with advertising and other Internet marketing efforts on Google, Bing, and even social media such as Yelp or Google+ Local. This ambitious campaign is occurring throughout South Florida, including the West Palm Beach community. Residents and businesses will begin to see Express Glass and Board Up showing up more and more across Internet searches, social media, and even so-called eWOM (electronic word of mouth).
To learn more about Express Glass and Board Up's commercial glass repair services, please visit http://www.expressglassfl.com/commercial-glass-repair/. There one can ask questions, request an appointment, and find local phone numbers to reach out to a technician, 24/7. Businesses are encouraged to call and mention the company's special business efforts, as the company is interested in long-term business partnerships and can give favorable rates to business customers such as apartment complexes or businesses with more than one location.
Messaging on Commercial and Business Glass Repair
Unlike residential customers, commercial customers face unique problems when they have a door, window or entry breakage. The advertising and public relations campaign on the Internet seeks to help business owners distinguish their needs from those of residential glass customers. First, businesses often have expensive equipment, valuables, and even cash inside. Therefore waiting a few days for a repair is not an option. Second, businesses face liability issues if a door or window is not easy to open, or easy to exit from. Third, businesses have to worry about their appearance to customers; shutting down for a few days for a repair is generally not an option. For these reasons, businesses often look for specialized 24/7 emergency commercial glass repair services - those that can provide reliable, quality repair for Florida businesses at competitive prices.
Finally, most businesses need repair service immediately and so they turn to Google, Bing, or other Internet search engines to find the top-rated glass repair company instantly. To this end, Express Glass is on the forefront of advanced Internet marketing strategies.
About Express Glass and Board Up
Express Glass and Board Up Service Inc. is a family owned and operated glass repair business with more than 20 years of experience. Their professional technicians and the large variety of inventory make Express Glass the top glass repair service. If customers are looking for West Palm Beach glass repair or West Palm Beach glass repair as well as glass repair in Delray Beach or West Palm Beach glass repair, please reach out to the company for a free estimate. If customers need a 24/7 Sliding Glass Door repair service in West Palm Beach or Boca Raton or Miramar, technicians are standing by. The company specializes in sliding glass door repair and window glass repair; technicians will handle any glass replacement situation efficiently. Home or business glass repair is the company's main priority.
Express Glass Repair and Board up
http://www.expressglassfl.com/