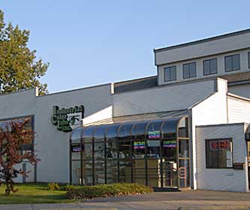 The Small Business Services Program team did a great and efficient job. I'm thrilled with all of my new lights!
Syracuse, NY (PRWEB) June 03, 2014
The National Grid Small Business Services Program has helped thousands of small business owners in Upstate New York reduce their energy usage and costs. One small business owner, Michelle Ricciardi, recently took advantage of this program for her business and upgraded her interior and exterior lighting systems to energy-efficient technologies. The lighting upgrades, performed by SmartWatt Energy, are expected to save Michelle $76 per month on her National Grid bill.
SmartWatt completed a complimentary energy audit of all interior and exterior lighting systems, and proposed a plan to replace the existing lighting fixtures with high-efficiency fluorescent and LEDs throughout Michelle's business, Industrial Color Labs'. According to National Grid, the project will have a payback period of only 10 months. In addition to dramatic improvements in lighting quality, this energy savings project is estimated to provide the same benefit to the environment as planting 148 trees or saving 646 gallons of gasoline, according to U.S. Environmental Protection Agency calculations.
"The Small Business Services Program team did a great and efficient job. I'm thrilled with all of my new lights!" said Michelle Ricciardi, owner of Industrial Color Labs.
SmartWatt is the administrator and implementation contractor for National Grid's Small Business Services Program in Central, Northern, and Mohawk Valley New York. The National Grid Small Business Services Program helps businesses with an average peak demand of 100 kW or less per month to conduct energy-efficient upgrade measures. Through this program, SmartWatt will provide a complimentary energy audit and National Grid will pay up to 70 percent of the installation costs completed by SmartWatt and finance the remaining amount interest-free for up to two years.
ABOUT SMARTWATT ENERGY, INC.
SmartWatt Energy is a unique energy-efficiency firm. It provides turnkey solutions for utilities, commercial, industrial and institutional clients and also develops proprietary software that streamlines internal workflow processes and provides comprehensive program reporting. SmartWatt Energy's three divisions use cutting-edge technologies, design and processes to take on and solve their client's toughest sustainability challenges:

The Commercial, Industrial and Institutional Division works with end-use clients throughout the United States to design and install multi-measure energy-efficiency projects. Clients look to SmartWatt Energy to provide large-scale savings through turnkey energy auditing, engineering, project management and installation services.
The Utility Division contracts directly with utilities to manage their commercial energy efficiency programs. SmartWatt Energy's vertically integrated program delivery platform ensures utility program success and client satisfaction, because all elements of the utility program are handled by a talented, integrated, cross-functional team.
The Software Development Division creates customized, proprietary software applications to increase efficiencies and provide added value to utilities and national accounts clients.
SmartWatt Energy has won an Inc. magazine "Hire Power" award and has twice been named one of the "Fastest Growing Private Companies in the United States" on the magazine's annual 5000 list. For more information, visit http://www.smartwattinc.com.