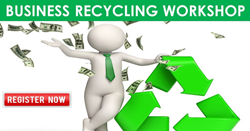 Without focusing on assisting industry to do a better job of recycling, the 75% recycling goal will never be realized.
Orlando, Florida (PRWEB) March 31, 2015
The Southern Waste Information eXchange (SWIX), is pleased to announce an upcoming one-day recycling workshop for business owners. SWIX has assembled several industry experts to present at the educational event, which is scheduled for April 23 at the Second Harvest Food Bank in Orlando, Florida. Participants will enjoy learning from multiple industry professionals concerning starting, improving or financing a business's recycling program.
Experts include:

Jeff Prather, Director, Florida Department of Environmental Affairs
Kenya Cory, Executive Director, Florida Recycling Partnership
Guillermo Guiterrez and John Hanrahan, Representing Florida First Finance Corporation
Patrick Irby, Waste Alternatives Manager, Alachua County BOCC
Miriam Zimms, Waste Reduction and Recycling Programs Manager, Kessler Consulting
Kim Brunson, Compliance Analyst, Publix Supermarkets, Inc.
Kelly Saikkonen, Senior Engineer, Harvest Power
John Zapata, Senior Vice President of Distribution, Rooms to Go
Gene Jones, Executive Director of SWIX, is passionate about helping public and private organizations find opportunities to reduce waste and increase access to resources that help organizations become more economically efficient. The workshop is part of a larger initiative for the State of Florida to reduce waste. Fortunately, there is an upside to this objective for businesses as well. Benefits of business recycling include reducing costs associated with waste disposal, finding markets (getting paid) for waste materials and spending less on purchasing materials.
"The state currently has a goal of achieving a 75 percent recycling rate by the year 2020. In order to achieve such a goal, the state needs to take advantage of all opportunities to increase our current rate of recycling," explains Jones. "Businesses in the State of Florida generate 65 percent of the municipal solid waste stream. Without focusing on assisting industry to do a better job of recycling, the 75 percent goal will never be realized."
The upcoming workshop will include the following topics:
State of Recycling Activities and the Recycling Business Assistance Center
Developing and Adopting Sustainable Business Practices
What Financial Help is There for Recycling in Florida
How Local Governments in Florida are Stimulating More Business Recycling
Business Recycling Panel
Interested parties may register for the workshop online at swixusa.org/recycle. Early registration is encouraged since space is limited. The cost of the workshop is $35 per person. For more information, contact Gene Jones at (850) 386-6280 work or by email: gene(at)swixusa(dot)org.
About SWIX:
The Southern Waste Information eXchange, Inc. (SWIX), a non-profit 501(c)(3), has as a primary objective the recycling and reuse of solid and hazardous waste. Since its inception in 1981, the emphasis of the SWIX has been on encouraging and facilitating sound environmental and cost-effective alternatives to the landfilling, incineration or treatment of solid waste through direct interaction with waste generators in both the public and private sectors.