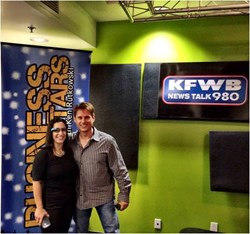 Santa Monica, CA (PRWEB) December 13, 2013
Ken Rutkowski, host of Business Rockstars will be interviewing Yifat Cohen, the G+Go To Gal today, December 13th at 2pm, PST. She will be discussing Google+ for business and the benefits of Google Hangouts. Yifat makes an effort to educate and empower small and medium size business owners and entrepreneurs, in making an exemplary change in today's economy.
Yifat Cohen, Google+ and social media expert, is one of the very few non-Google employees who is asked by Google to present Google+ and Hangouts to Google employees. She is often flown around the world to speak at various worldwide Google events. Yifat's talks are inspiring, engaging and provide her audiences best practices for engaging and monetizing their presence on Google.
When Yifat was asked about today's interview with Ken Rutkowski on Business Rockstars, she said, "Larry King, Simon Mainwaring and now me! But this time – not just radio, but a Hangout with you!"
They can be joined on a Hangout or one may call the studio at (310) 305-4100 today, Friday, December 13th from 2-4pm PST.
About Yifat Cohen
Yifat has also been featured on Mashable, DataMation, The Rise to the Top, Diamonds in Your Backyard, Entrepreneur on Fire, and many more. She pushes Google's technologies to its limits, and creates best practices and strategies for today's business owners and entrepreneurs. Her clients include The Governor of Texas, Mashable Social Good Summit, Versus, and most recently, Intuit to name a few.
As a Google Plus expert, Yifat Cohen is best known for developing engaging online communities for both new business owners and national brands. She is the go-to gal, Founder at G+GoToGal.
She was listed as No.1 Top Google+ Users Working as Google+ Marketing. She has also been voted as the Best Google+ user in 2011 by Google+ community, she's 286 on the Who's Who for Google+ and one of the top 1000 Google+ users in the world for 2012.
Yifat is a sought after speaker, strategist, and Google+ advisor. She enjoys teaching "How to Hangout", "How to optimize Google+", and ultimately, how to create predictable revenue streams with Google+ and social media.
About Business Rockstars
Business Rockstars is a weekly show on KFWB, Talk 980 for entrepreneurs by entrepreneurs. Every Monday through Friday, 2-4pm Ken Rutkowski connects the listener to some of the biggest names in business to share their experience and knowledge of entrepreneurship
Business Rockstars do not just create game-changing companies, they become a brand. Each show will introduce you to these Rockstars, their business experiences and amazing stories behind them.
Ken Rutkowski has been profiled in the Wall Street Journal, Fox News, BBC, Wired, Business Week and has hosted technology radio shows on CNET, CBS and online.
Yifat Cohen
Google+: https://plus.google.com/+YifatCohen/posts