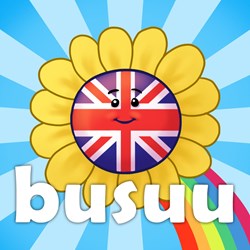 Popular apps 'Kids learn English with busuu' and 'Kids learn Spanish with busuu' are available now for Android tablets and phones.
London, United Kingdom (PRWEB) November 05, 2013
Designed for children aged between 4-7 years and developed by education experts at busuu, two new easy-to-use Android apps make learning interactive and fun. More information is available at http://www.busuu.com/mobile/kids.
Young children aged 4-7 years can now get a head start in learning English and Spanish with new busuu apps for Android. busuu's Android apps offer the most stimulating, comprehensive and easy-to-use language experience for children on Android tablets and mobile phones. These popular apps have already been downloaded over 200,000 times for iPad.
busuu, the world's largest online language-learning community with over 35 million users, has developed the app with educational experts at busuu.com. Requiring no guidance, 'Kids learn English with busuu' and 'Kids learn Spanish with busuu' teach children 150 words of English and Spanish through 30 carefully structured learning units. It's ideal for firing up an interest in languages from an early age, helping children make fast progress in a fun way by giving them the tools do to things like order an 'helado' (ice-cream) for themselves on holiday.
Based on a proven, specially developed five-step approach, each lesson engages, rewards and motivates children through a range of exciting educational games. These use spelling and phonetics to introduce and teach words, before quizzing children on their newly acquired vocabulary and inspiring them to continue.
Parents can easily monitor their child's progress using the magical growing garden, which adds to the feeling of another world and delights children as it flourishes every time they learn something. Whenever they finish an exercise, they will see their progress mirrored in the growth of a colorful flower, which blooms at the end of the unit.
'Kids learn English with busuu' and 'Kids learn Spanish with busuu' use limited text and have clear, self-explanatory exercises designed especially for young children. They can easily complete the activities without parental guidance or supervision – which means that they can keep themselves entertained and learn wherever they are – and repeat the exercises as often as they like.
The full versions of 'Kids learn English with busuu' and 'Kids learn Spanish with busuu' have 30 learning units covering a range of child-friendly topics including colours, number, pets, food and transport. A free basic version, containing three units, is available for download from Google Play*. Parents can choose to purchase additional learning units for $1.99 for 3, or the full course for $9.99.
*Google Play:
English: http://goo.gl/zh2t2d
Spanish: http://goo.gl/TmOkaN
About busuu:
busuu is the largest social network for language learning, with over 35 million users worldwide. The company offers free and premium paid-for access to audio-visual courses for 12 languages: Spanish, German, French, Italian, Portuguese, Russian, Polish, Turkish, Arabic, Japanese, Chinese and English.
Members can improve their language skills through direct interaction with native speakers within the community via an integrated video-chat application and peer-to-peer text corrections. As a result, every busuu.com user is both a 'student' of a foreign language and also a 'tutor' of their own mother tongue.
Bernhard Niesner and Adrian Hilti in Madrid founded busuu in early 2008. It was an official UNESCO International Year of Languages project in 2008. The website has received several awards including AlwaysOn Global 250 Winner 2009, Language Label 2009 from the European Commission, CeBIT Innovation Award 2010, Red Herring European Winner 2010 and 'Best Education Start-up' at The Europas TechCrunch Awards in 2011.
The company is named after the Busuu language of Cameroon. According to an ethnological study from the 1980's, Busuu is spoken by only 8 people.
Screenshots (more screenshots available on request):
Kids learn English with busuu.
Kids learn Spanish with busuu.