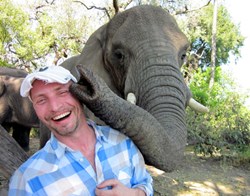 "It's an incredible community and I'm honoured to be mentioned." - Brad Crockett
Toronto, Ontario (PRWEB) October 09, 2013
Departures magazine has named Butterfield & Robinson Director of Private Travel Brad Crockett a Safari Specialist in the magazine's October 2013 Africa Now issue.
Having first travelled to Africa as a backpacker in 1989, Brad returned 10 years later as a guide in the continent's south, spending the better part of a decade guiding trips. Now Butterfield & Robinson's Director of Private Travel, he specializes in unique, unusual and active experiences in southern Africa.
"It's a thrill to get the nod by a magazine like Departures, as they cover not only the best in travel but also food, culture and lifestyle—key ingredients to travel," Brad says. "Most of the lodges and guides listed are people and places that I've looked up to and have worked with during my time in Africa. It is an incredible community and I'm honoured to be mentioned in the same pages as them."
In addition to his South Africa Family Private, South Africa Culinary Private and South Africa Active Private itineraries, Brad's Africa portfolio has recently expanded to include Tanzania Biking Private, Tanzania Walking Private and Tanzania Family Private Ready-to-Book trips, along with Bespoke trips to Botswana and Namibia.
Butterfield & Robinson—the world's premier active travel company—designs incredible journeys to the world's most amazing places. Crafted from the finest ingredients (exceptional lodgings, incomparable access, stellar wines and food, experienced guides and more than a few secrets), B&R trips combine adventure with unparalleled cultural immersion in the world's greatest destinations.
For more information on this trip and more visit http://www.butterfield.com.