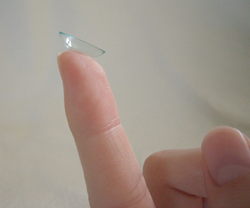 when the camera is pointed at ordinary objects in the environment the image is translated into electronic form of braille
(PRWEB UK) 12 March 2014
Blindness affects over 40 million people in the world, many of which may occur as sudden onset. However, advancements in technology means we could be making progress when it comes to helping the blind "see".
Contact lenses, used predominantly as a substitute for glasses can now be a tool for a new kind of vision for the blind. Professor Zeev Zalevsky from Bar Ilan University has proposed a method of incorporating electrodes into a bionic contact lens that receives input from a camera either hand held or placed on a pair of glasses. Therefore when the camera is pointed at ordinary objects in the environment the image is translated into electronic form of braille. Photo receptive cells in the retina that help us to see and could be inactive in the blind, are excited from these Braille inputs.
Zalevsky describes this technique as "reading braille, not with your fingertips but with your eyes".
It turns out that researchers have had some success with initial trials. However, it has yet to go through clinical trials and great funding is required.
Optometrist and founder of Contact Lens Mail, retailer of contact lenses online, Kishan stated, "This is an exciting time to be involved in optics. It also shows that we are making some real progress in providing some sort of visual response in those who are blind."
It comes after Google proposes a method of detecting glucose levels through contact lenses. This will help diabetics determine when sugar levels in the body go above and below threshold values. Again, electrodes are embedded within the contact lens that respond to glucose in the tears.
Blindness is caused by many conditions - diabetes, AMD and glaucoma being the most popular causes. Kishan also highlighted, "Resources must also be allocated to preventing sight threatening conditions before it develops to the level of blindness."
Nonetheless, contact lenses have become a tool very useful for conditions we never intended them for. The exciting part is that we have only seen the beginning of a new concept of contact lenses in health care.