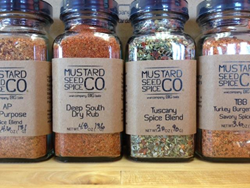 small company BIG TASTE!
Albertville, MN (PRWEB) April 18, 2014
Mustard Seed Spice Company of Minnesota is founded on one main principal--to turn good cooks into great cooks!
Patrick Brown, Owner & Chief Culinary Consultant of Mustard Seed Spice Company, a foodie at heart with 25 years of experience in the food service industry, decided it was time to hit the ground running. The goal was a do it yourself (DIY) at home-food cooking niche, helping the at home chefs by adding a little spice and a little sizzle. Brown co-manages his staff with his daughter Amanda Brown at their Shoppes at Prairie Run location in Albertville, Minnesota. There they tackle the ever increasing issue of flavorless meals throughout the United States and Canada.
Cooking is more than just slapping ribs on the barbeque with a toss of salt and pepper; it's the art of timing, ingredients, quality, display, and flavor. For the cook who loves to entertain, the right combination of spices will take a 'good' burger to the next spectrum of 'unforgettable'. Novice cooks can become a Spice connoisseur and get family and friends excited about amazing food. Mustard Seed Spice Company is the 'go to' for culinary expertise and advice required to pull off an amazing dining experience, right from the family dinner table.
Mustard Seed Spice Company has gourmet spices for all occasions. Whether it's a laid-back day of tailgating or entertaining at home, Their Signature Blends, AP--"All Purpose" Spice Blend--available in three varieties, or GoE--Good on Everything (GoE)--are truly all purpose and fantastic on anything from meats, vegetables, and pretty much anything else that is cooked or serverd. How about a Taste of 'Merica with blends like Beale Street Q Rub, Deep South Dry Rub, or Wild Alaska Seafood Spice, all the ingredients for another epic meal a la Mustard Seed Spice Company? Maybe it's a Steak 'n Sizzle kind of night--North of the Border Steak Seasoning, Southwest Seasoning, Windy City Steak Seasoning, or a Spectacular Salt Blend will make that special meal truly special.
Experience A Taste of Tuscany without ever leaving the country with a mouthwatering Tuscany Blend, fantastic with EVOO, some aged balsamic, and fresh baked bread; a mixed garden salad; or any pasta dish. Did we mention pizza? The Tuscany Blend elevates the flavor and stimulates taste buds.
The tantalizing combination of spices, blends, and rubs is endless. Let Mustard Seed Spice Company help create something special today.
Mustard Seed Spice Company specializes in gourmet, all natural, supreme quality, spice blends and rubs that provide a flavorful experience without the addition of anything but the finest quality spices themselves. Free from preservatives, additives, and MSG--truly an All Natural combination.