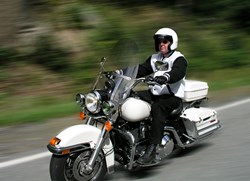 Some companies that provide automotive insurance do not provide protection for motorcycles, ATVs or other non-traditional motor vehicle types
Rockford, Illinois (PRWEB) November 26, 2013
Insurance companies in the U.S. that are able to underwrite motorcycle policies can have a large variance in price when multiple companies are compared. The Auto Pros company is now helping any person in the U.S. to buy motorcycle insurance in one click when using its tool online at http://autoprosusa.com/motorcycle-insurance.
This method of finding insurance plans for bikers is a new concept included on the Auto Pros website in 2013. A related system for auto insurance was launched earlier in the year and has performed well for matching consumers with insurers. The motorcycle rates that are viewable includes direct access to policy reviews from each insurer.
One drawback to researching insurance companies using traditional methods is the information sharing that is expected between companies. A biker is often required to submit name, address or other types of contact information before a quote is viewable.
"Some companies that provide automotive insurance do not provide protection for motorcycles, ATVs or other non-traditional motor vehicle types," said a source at the Auto Pros company.
The one click purchase tool that is included in the research system provided instantly links a biker with an insurer of their choice online. One of the advantages of using the system is the easy comparison process that any motorcycle owner can go through to select the lowest price policy provided.
"Not only do we provide insurer details, our system provides up to 50 companies that are viewable and comparable to present the cheapest possible pricing," the source included.
The Auto Pros industry tool to find regular car insurance has performed well online for the short duration this tool has been active online. There are now consumers in all 50 states who are using the tools that are active online at http://autoprosusa.com/insurance.
About AutoProsUSA.com
The AutoProsUSA.com company now supports motorcycle owners with programs to help locate insurance and repair warranty policies offered through national providers in the United States. The company reviews and databases that have been created in 2013 help remove all research required to find motorcycle services online. The AutoProsUSA.com company website features public access to the search system linked with multiple retailer companies that provide parts discounts and other services. A toll-free accessible number is currently in use by this company to connect company staff with consumers who require offline assistance.