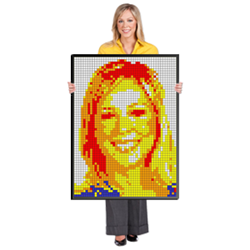 Rubik's cubes are the paint and canvas. Makes a truly unique Holiday Gift
Athens, GA USA (PRWEB) November 10, 2016
RubixCubeArt.com is the world's first site where customers can turn their own photo or logo into a customized, pixelated wall art project made entirely of Rubik's Cubes. Commonly known as "Rubik's Cube Mosaic Art", actual cubes are turned to match a pixelated design proof using only the colors available on a Rubik's Cube. Rubik's Cubes are the "paint" and "canvas" that brings the uploaded photo or logo alive in a unique retro, pixelated style. These finished projects are custom-designed and assembled in the USA and shipped free to customers in the USA and Canada.
When purchasing a Rubik's Cube Mosaic, customers have a choice of three project options:
1. Fully Framed and Ready to Hang Artwork
2. Fully Assembled, Mounted Artwork which can be displayed or framed by the customer
3. Ready-to-Assemble projects where the fully turned cubes are labeled using a coordinate grid for final assembly by the customer.
Depending on the available wall space, customers also have a choice of two different cube sizes:
1. Standard (5.3cm) Cubes or
2. Mini (3cm) Cubes
The Mini Cubes provide a more economical option and allow for more total "pixels" in less space. Mini cubes render complex images with more detail.
These custom Rubik's Cube Mosaic Art Projects make a great holiday gift. Pixelated Cube Art is a great way to celebrate any occasion:
Cube Mosaic Portraits can commemorate timeless events like special milestone birthdays, retirement ceremonies, and even weddings.
Framed Cube Mosaic Logos make a bold corporate statement and are a must for tech companies, engineering programs, and any other company that wants to impart a smart, retro-modern look to their surroundings.
Team Logos, Pro or College may be uploaded to create that one-of-a-kind, ultimate piece of fan worship.
Customers can order their project in a few easy steps:
1. Choose Cube Size and Number of Cubes
2. Select Framed, Mounted, or Ready to Assemble
3. Upload the Photo or Logo
4. Receive delivery in a couple of weeks in most circumstances.
OR, simply order the $79 design service first and receive a full $79 credit toward the final project.
Pricing for finished projects starts at $289 during the current sale. Sale prices are in effect while supplies last. Holiday orders should be placed, and the artwork approved, no later than December 8th.
Orders for very large, mural-sized items, or multiple projects should contact support(at)RubixCubeArt(dot)com for special pricing.