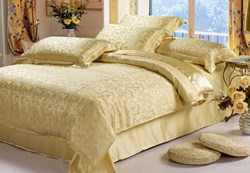 We must do our best to provide gorgeous silk bedding that are just what our customers want.
Midland, TX (PRWEB) February 15, 2014
Lilysilk is a distinguished manufacturer and retailer of silk bedding wares for years, which is reputed as one of the best places to purchase high-end and affordable silk sheet sets. The company aims to offer customers premium quality silk products at competitive prices.
From the manufacturing procedure to sale, Lilysilk carefully checks each step to make sure its high quality and excellent services, so that customers could feel assured to buy anything at their website. Just as what Mike Lee, CEO of Lilysilk, said, "Customer satisfaction is an important part of our business. We must do our best to provide gorgeous silk bedding that are just what our customers want."
The silk sheet sets introduced include silk duvet covers, fitted sheets, flat sheets, pillowcases both in terse and oxford style. All these items are made from 100% mulberry silk. Despite their high quality fabric and beautiful designs, they come with 10% off discounts. Supplying magnificent silk bedding wares which are in accordance with customer demands and which fall within their budget is something that has enabled Lilysilk to win worldwide customer approval.
One customer called Paul said, "I took advantage of the discount offer to buy this silk bed sheet set. I am very impressed by the quality of the silk. It will be much more comfortable in hot weather (if we ever get any) than our current cotton/polyester mix, which has gone thin and bobbly. I would definitely buy another set soon for my parents."
The company is one of the most popular and appreciated bedding manufacturer which specializes in silk bed sheets and comforters. It is known for its free delivery worldwide. More information about Lilysilk products and promotions can be found at: http://www.lilysilk.com/.