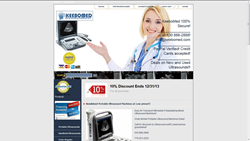 Our goal is to offer the best quality medical ultrasound machines and other equipment to veterinarians and doctors at the most competitive prices.
Mount Prospect, IL (PRWEB) May 08, 2014
KeeboMed Inc, the highly respected online retailer of top quality ultrasound machines for veterinarians and physicians, is offering the widest range of pet ultrasound machines at the best prices. The company, which is based in Mount Prospect, Illinois, has been retailing the best quality ultrasound machines, including color Doppler, handheld, used, black/white and portable machines, for years and has earned a reputation for itself as the premier online retailer of medical diagnosis equipment in the United States of America.
A senior executive of the company stated that, "Our goal is to offer the best quality medical ultrasound machines and other equipment to veterinarians and doctors at the most competitive prices. We have always ensured that all the products that we retail exceed market demands and the expectations of our buyers. This is the reason why we regularly update our list of offerings to make sure that our buyers get a chance to purchase the most advanced ultrasound and other diagnostic equipment from our online store. In order to offer the best prices on the entire range of products that we offer, we work directly with leading manufacturers and hence provide great discounts as well."
Along with the widest range of ultrasound machines for diverse uses, KeeboMed Inc also specializes in retailing other medical equipment, which include patient monitors, anesthesia machines, orthopedic kits and equipment and other surgical equipment at the most affordable prices. The company is so confident about the quality of all its goods that it offers a comprehensive 30 days returns policy, where the buyer can ask for a full refund of the entire transaction amount of the product he/she receives fails to work as described.
"We don't want to see even a single unsatisfied customer and hence we ensure that all products that we ship to our eagerly waiting customers have passed all required tests that determine their performance and functionality. Moreover, we also have a large team of customer care executives who are happy to listen to the queries of our customers and try to provide comprehensive solutions to them. Further, our buyers can even get in touch with our customer care department if they are not able to choose the best products for their use," further added the executive.
Along with retailing a vast range of new ultrasound machines for veterinary use, which incorporates the latest in technology, the company also specializes in retailing high quality used ultrasound machines. To find bovine veterinary ultrasound machine, click here. These machines, which are used previously, or a demo and refurbished machines, have been tested for quality and performance before they are listed for sale and hence those who are looking to purchase a good quality ultrasound machine at a discounted price, should check out the gallery of used ultrasound machines at the company's online store. To buy veterinary ultrasound machine for pet, head over to http://www.veterinaryultrasounds.com/dogs-and-pets-ultrasounds/.
About KeeboMed Inc:
Based in Mount Prospect, Illinois, KeeboMed Inc is a leading online retailer of the best quality ultrasound machines, ultrasound scanners, anesthesia equipment and surgical tools at the most affordable price. KeeboMed Inc. is the best place to buy equine ultrasound machines at affordable rates. The company also retails used ultrasound machines, which enable buyers to save a considerable amount of money. To check out the range of products offered by the company or to buy Vet Diagnostic Ultrasound machine, visit http://www.veterinaryultrasounds.com/.
Contact Details:
KeeboMed Inc
832 E. Rand Road Unit 22
Mount Prospect IL 60056
Phone: 630-888-2888
Email: keebomed(at)live(dot)com
Website: http://www.veterinaryultrasounds.com/